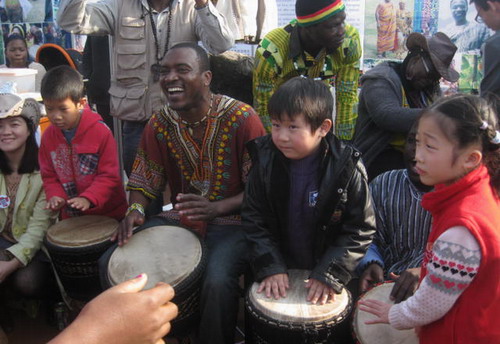 Locals and expats play drums at the cultural fesitival in Wuhan University.  
Our amorous relationship began in early September 2009 and it was my second stop from Beijing. It was love at first sight. In our six-year affair, we have had a few glitches and misunderstandings, but that's normal in every relationship. A break-up though is totally out of the question here.
With so many others competing for my attention and offering me so much, people will understand why such a relationship would have problems. I will confess that in my travels around China, I have not really been that faithful to my love (Wuhan), but she understands that most cities in China have a lot to offer and discover.
So, as much as time will permit, we often revel around the numerous sights and sounds that make Wuhan one of the most-talked about destinations in China. It's a must visit for all foreigners on the mainland and I will personally recommend a trip to Huanghelou, the iconic 223 AD Buddhist temple located in Wuchang, a twin sister city to Hankou and Hanyang. The three-sister cities, separated by the mighty Han and Yangtze River, come together to form Wuhan, a name derived from a combination of their initial characters (Wu-from Wuchang and Han-from Hankou and Hanyang) and believed to have been coined in 1927.
Wuhan, like other modern cities in China, has had its fair share of the probability cost of development, relinquishing some of its ancient cultural monuments for a modern society. It has paid off though. The unemployment rate is down, a lot of foreign direct investment is flowing in and there's a thriving multi-cultural society with foreigners from all parts of the globe. The city can now boast and compete with first tier cities in terms of the vibrant foreign national population comprised of mostly students pursuing degrees in its numerous universities.
The Annual Wuhan University Cultural Festival is an enviable occasion among universities in the city. It is a platform where students, including Chinese and foreigners, are given an opportunity to showcase their culture. It's always a blast: the food, the clothes, music, drumming and dancing, you name it. It's a fun-filled event. The event is also on occasions organized by Central China Normal University.