Editor's note: MichaelM, our blogger from the US, has compiled a list of eating habits in China that Westerners may find quite odd and certainly do not understand. How much do you agree or disagree? You're welcome to share your comments.
1. Not eating food dropped on a table - I've seen how some look at me with disgust when I pick and eat food dropped on the table. In the West, we clean our tabletops quite well, often with disinfectant, especially in restaurants. Our thought is, "A tabletop has had nothing but food on it. No one walks on it, sit on it or throws garbage on it. Why is it considered so dirty?" We don't get it.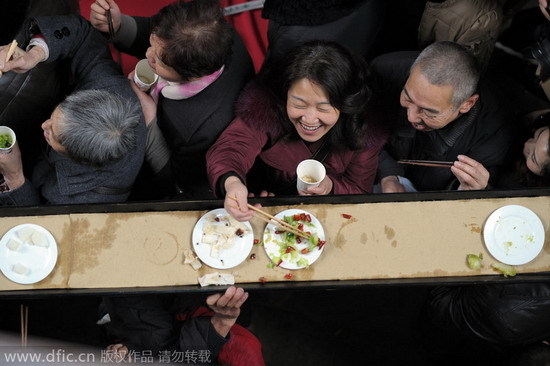 Tourists and local residents eat at a banquet for upcoming Chinese Lunar New Year or Spring Festival in an alley in Zhongshan Ancient Town, Chongqing, China, on January 27, 2014.