Editor's Note: Sometimes we have to work with people we don't like, and no matter how much we dislike them, it's important to get along at the workplace. So, how do we work with people we don't like? Our Forum readers share their ideas and experiences.
honkam (UK)
In any working environment there is always friction arising between colleagues, you just have to respect yourself and your coworkers to get along in the workplace.
If the situation becomes unbearable; you'll just have to weigh up the options whether it is worth your while to continue in that environment.
Because money is not everything in life, I would rather be in a lower paid job and be happy than be overly stressed, life is to too short to be putting up with idiots.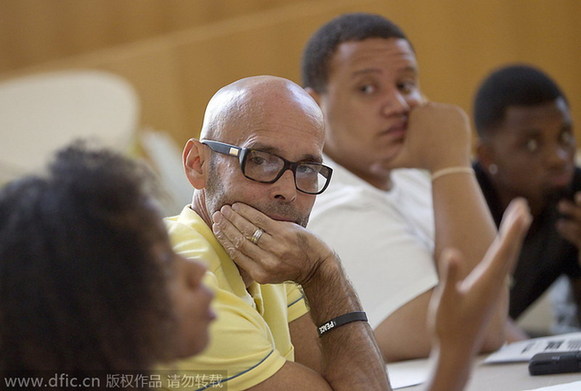 Teo Castellanos, center, meets with his Tigertail Productions WordSpeak team members on June 19, 2014, in Miami Beach, as they rehearse and work on new poems for a national poetry slam in July. [Photo/IC]
The original piece: http://bbs.chinadaily.com.cn/forum.php?mod=viewthread&tid=801616&highlight=work%2Blike%2Bpeople