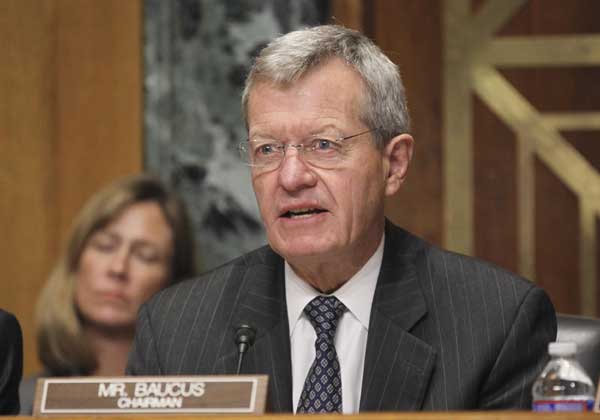 US Senate Finance Committee Chairman Max Baucus (D-MT) questions Health and Human Services Secretary Kathleen Sebelius at a hearing in Washington in this file photo taken November 6, 2013. [Photo/Agencies]
BEIJING - The US Senate on Thursday confirmed Senator Max Baucus as the next ambassador to China, a key post in promoting one of the world's most important bilateral relations.
Baucus, known for his rich experience in trade issues and support for Obama's healthcare reform, has been the chairman of the Senate Finance Committee since 2007, which oversees tax, trade and healthcare policy.
He, who has traveled to China for more than a half dozen times, is notably a China expert, especially on economic and trade affairs, which makes him a wise choice for Washington to deal with the world's second largest and most vibrant economy.
The 73-year-old senator was the key person that facilitated the entry of China into the World Trade Organization in 2001 and boosted the normal development of economic ties with Beijing during his previous roles.
However, Baucus has also adopted a hard line against China's trade practices and currency exchange rate.
With a mixed record on the economic front, Baucus will start his new job at a time when relations between the United States and China are often disturbed by political squabble over the South China Sea.
Beijing has been annoyed by the US meddling in its territorial disputes with Japan and some Southeast Asian countries.
Washington's backing has emboldened countries like Japan and the Philippines to take series of provocative moves, which worsened the already tense situation and complicated the efforts to seek an amicable solution through dialogue.
This means the new job in Beijing is no picnic for Baucus.
Instead of letting regional disputes derail the overall development of Washington-Beijing ties, the new US ambassador to China could play a positive role in promoting bilateral relations, easing regional tensions, and contributing to peace and stability.
Despite all the frictions and disputes between the two countries, the top leaders from China and the United States have a general consensus on the building-up of a new type of major-country relations characterized by mutual respect and win-win cooperation.
Therefore, the first thing Baucus could do when he arrives in Beijing is to pick off his colored glasses on China's economy and learn more about the complexity of bilateral relations.
China welcomes the coming of Baucus, just as the world welcomes a sound development of Beijing-Washington ties.
It is expected that Baucus could take advantage of his position to strengthen political mutual trust, drive next phase of economic cooperation, foster military links, and contribute more to peace and stability in the region and the world at large.