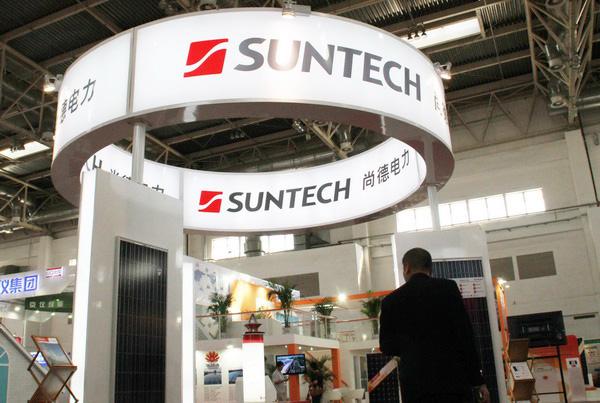 Suntech's booth is seen at an exhibition in Beijing, Sept 5, 2012.  [Photo by Wu Changqing/Asianewsphoto]  
Suntech, formerly the world's largest solar manufacturer, filed for bankruptcy protection in a US court as its leaders negotiate with holders of more than $500 million in US convertible bonds, Dow Jones reported.
If recognized by a US judge, Suntech will receive the benefits of US bankruptcy law, including a so-called automatic stay that halts lawsuits and prevents creditors from seizing assets, the report said. The filing is expected on Feb 21.
Suntech's default on its $500 million convertible bonds led to the bankruptcy of its manufacturing base in East China's Wuxi in March 2013.
Shunfeng Photovoltaic International, a smaller rival of Suntech, announced it plans to purchase the main assets of Suntech for 3 billion yuan ($494 million). It remains unclear how much money from the reorganized company would eventually flow to the roughly $540 million in US convertible bonds that the company defaulted on in March.