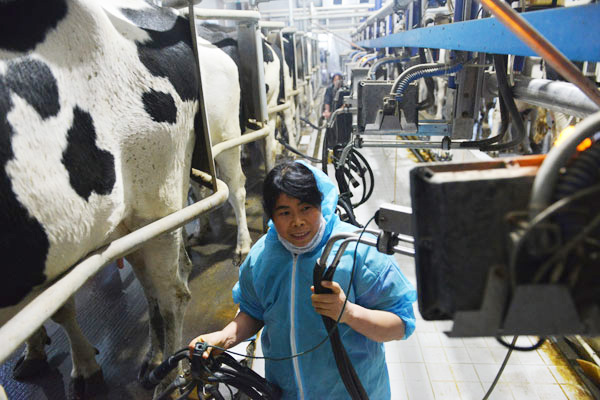 A dairy cow farm in Zouping, Shandong province. China's raw milk output was 35.31 million metric tons in 2013. Dong Naide / for China Daily 
China's raw milk shortage in December has turned into a severe challenge for the country's dairy farms this year, as most struggle to get forage crops sufficient to boost productivity, industry insiders said.
Gu Jicheng, vice-president of the Beijing-based Dairy Association of China, said China's poor forage crop production, along with rising prices of imported alfalfa and corn silage, affected the nation's raw milk output in 2013. Most Chinese dairy farms lack access to quality feed for their cows, he added.
Compared with dairy cows in Israel, which can produce up to 11 metric tons of milk on average per year, Chinese cows yield between 6 and 7 tons per year. The world's biggest agricultural product consumer so far has only 200,000 hectares of farmland for growing corn silage.
According to the National Bureau of Statistics, the country encountered a notable drop in raw milk production last year, with output totaling 35.31 million tons in 2013, a 5.7 percent decrease from the previous year. That move led to a price rise in dairy products and battles among major firms for the supply of raw milk in the domestic market.
Major Chinese companies such as Bright Dairy and Food Co, China Mengniu Dairy Co and Yili Industrial Group Co recently raised their prices between 5 and 10 percent after Beijing dairy producer Sanyuan Group announced it was hiking a number of its dairy products by 8 percent two months ago.
Fearing they will be driven from the market, dairy enterprises of various sizes have scrambled to secure supplies from farms throughout China, especially in the major milk-producing regions of Hebei, Heilongjiang and Liaoning provinces, and the Inner Mongolia and Ningxia Hui autonomous regions.
Although most Chinese cows are Holsteins, a breed that originated in Europe and is known as the highest-producing dairy animal today, their productivity cannot compete with cows in Europe or the United States.
"Many Chinese dairy farm owners are still adapting the way they feed pigs to run their business and only use hay to feed them," Gu said. "Because the price for quality corn silage and alfalfa, mainly from abroad is higher than domestic made forage feed, farm owners have difficulty in buying them."