65 world leaders going to Sochi
Updated: 2014-02-06 21:05:16
( Agencies)
SOCHI, Russia - A record number of world dignitaries are coming to the Sochi Olympics, triple the amount that attended the 2010 Vancouver Games, Russian organizers said Thursday on the eve of the opening ceremony.
Dmitry Chernyshenko, head of the Sochi organizing committee, told the IOC that 65 heads of state and government and international organizations are expected to attend Russia's first Winter Olympics.
"This is a record for Winter Games, three times the number in Vancouver," he said in his final update to the International Olympic Committee general assembly.
The IOC said Wednesday it was aware of 44 world leaders coming to the games. Chernyshenko's figures could be higher because of the inclusion of international organizations.
Sochi organizers have declined to provide the names of the leaders coming to the opening ceremony or the countries they represent.
Chinese President Xi Jinping and UN Secretary-General Ban Ki-Moon are among those attending and meeting with President Vladimir Putin.
A number of top world leaders are skipping the games, however. They include President Barack Obama, French President Francois Hollande, British Prime Minister David Cameron and German President Joachim Gauck.
The Olympics come amid Western criticism of Russia's law banning gay "propaganda" among minors.
The IOC praised Sochi organizers for the seven-year project in preparing the game but warned them not to rest yet.
"We have and you have all reasons to be very, very confident but there is no reason to be complacent," Bach said. "Now the real work starts. We are sure it will be a success, but we have to make it work."
Jean-Claude Killy, the French ski great who headed the IOC coordination commission for Sochi, said Sochi had undergone an "astounding" transformation in the seven years since it was awarded the games.
Russia has used the games to try to develop a decaying Black Sea summer resort into a year-round tourist destination and winter sports complex. It has spent $51 billion overall to rebuild the area, including long-term investments in roads, railways, hotels and other infrastructure.
"All of the promises made in 2007 have been kept and spectacularly so," Killy said. "It's a new city that's going to organize these games and show itself to the world - a city that is reflecting the new Russia."
Chernyshenko told the IOC: "Thank you for your bravery and courage that day. We didn't let you down."
Chernyshenko said a record 2,860 athletes from 88 countries had registered for the games so far, and offered further assurances that Russian security will "deliver safe games."
Tens of thousands of police and military personnel have been deployed to guard the Olympics, which face threats of terror attacks by Islamic insurgents from the North Caucasus region.
In a light moment, Chernyshenko claimed the birth rate had tripled in Sochi in the years leading to the games.
"I don't know why," he said.
China Daily in Sochi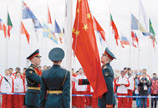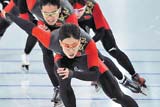 0
0
0
0
0
0
0
0
0
0
0
0
0
0
0