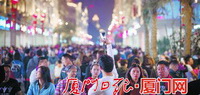 2018-02-23
Xiamen, a coastal city of Fujian province, welcomed more than 2.6 million visitors during the seven-day Chinese New Year holiday, a 16.14 percent increase year-on-year, Xiamen Daily reported on Feb 22, citing statistics from local tourism authorities.
2018-02-23
Rise of mobile payment services has changed the way people send and receive gift money during the Spring Festival.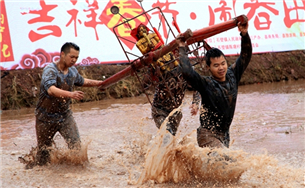 2018-02-23
People from Ninghua county, Fujian province observe a religious ceremony-cum-carnival on the seventh day of the first lunar month to awaken the sleeping earth and welcome the spring.
2018-02-22
In the month following Chinese Lunar New Year each year, fire, heat and bright lights are the focus of local celebrations in southeastern Fujian province.
2018-02-22
Fuzhou, capital of southeast China's Fujian Province, posted double-digit growth in tourism revenue during the week-long Lunar New Year holiday, official data showed Feb 22.
2018-02-22
Citizens visit a fair to greet the God of Wealth in Fuzhou, Feb 20, 2018, the fifth day of the Chinese lunar New Year which is believed to be the birthday of the God of Wealth.