2017-09-03
The State Flood Control and Drought Relief Headquarters activated a level III emergency response on Saturday for the approaching Typhoon Mawar.
2017-09-02
Influx of visitors proves Gulangyu's attractions but focus now turns to protecting its proud heritage
2017-09-02
In order to ease traffic congestion, Xiamen introduced China's first elevated bicycle path in its downtown area and about 5,000 people use it each day as they commute between their homes and offices.
2017-09-02
As the historical starting point of the Maritime Silk Road, Fujian province's universities are exploring opportunities to expand their ties with and presence in countries involved in the Belt and Road Initiative.
2017-09-02
As one of the country's two official performing troupes, the Xiamen Nanyue Orchestra has performed and trained young people to carry on Nanyin, a music-performance art form based on the local culture in southern Fujian province.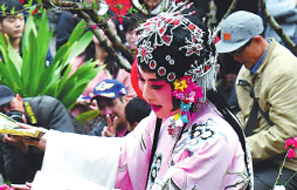 2017-09-02
Fujian province, a core area of the 21st Century Maritime Silk Road, has launched a range of overseas shows and art exhibitions in recent years to promote Chinese culture along the ancient trade route.