2017-05-24
Pingtan has built 52 public bike rental stations that provide 2,000 bikes across the city in a move to provide local citizens a cheap, convenient, and eco-friendly form of transportation.
2017-05-23
Beigang village in Pingtan stood out recently among 181 candidates, and won an award for its creative tourist industry.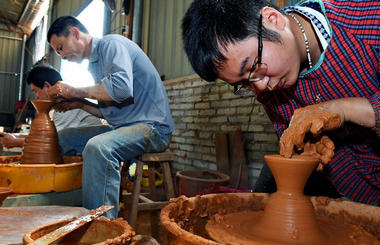 2017-05-22
The technique of making Jianzhan porcelain, one of the famous traditional porcelains in China, was listed as one of the national intangible cultural heritages in China in 2011.
2017-05-19
New Dragon Gate Inn, a Chinese wuxia drama, is currently being shot in Pingtan, Fujian province.
2017-05-19
The 2017 National Vocational Students Skills Competition concluded in Pingtan, Fujian province on May 18.
2017-05-19
China's National Beach Volleyball Tournament, which also serves as the qualifiers for the 13th National Games of China in North China's Tianjin later this year, kicked off in Pingtan, Fujian province on May 18.