2018-02-22
In the month following Chinese Lunar New Year each year, fire, heat and bright lights are the focus of local celebrations in southeastern Fujian province.
2017-12-07
Fuzhou, Fujian province, welcomed the world to its first International Dance Art Exchange Week with a gala performance on the night of Dec 2.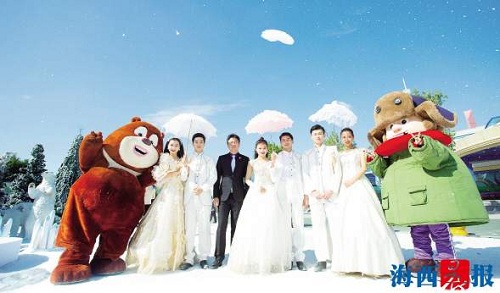 2017-12-05
The first man-made heavy snow in the Fantawild Resort in Tong'an district of Xiamen, Fujian province marked the beginning of the one-month Fantawild Ice and Snow Festival on Dec 2.
2017-11-29
Thousands of Chinese and overseas experts and scholars flocked to Fuzhou, Fujian province, with one common goal – the protection and inheritance of cultural heritage.
2017-11-23
The 5th Orchid Exhibition of China commenced at an orchid expo park in Liancheng county, Longyan, Fujian province on Nov 21.
2017-10-13
Beauty and brawn will combine as the scenic southeastern city of Xiamen plays host to elite triathlon series IRONMAN 70.3 on Nov 12.