2014-09-24
A delegation of 36 college students from Taiwan visited Pingtan and suggested they could in future begin their careers there.

2014-04-18
Models present a variety of creations during the Shishi Int'l Fashion Week in Fujian.

2014-04-10
Xiamen, located in East China's Fujian province, is the base of many Chinese yacht brands.

2014-03-19
The city of Jinjiang, Fujian province opened an animation sculpture exhibition with a prince and princess theme.

2014-01-17
Officials attending the Second Session of the 12th Fujian Provincial People's Congress - which opened in Fuzhou, capital of Fujian province, on Jan 12 – are discussing ways to boost the development of a "Beautiful Xiamen."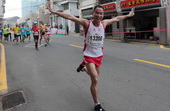 2014-01-06
Xiamen International Marathon, the first major marathon of 2014, gets underway.