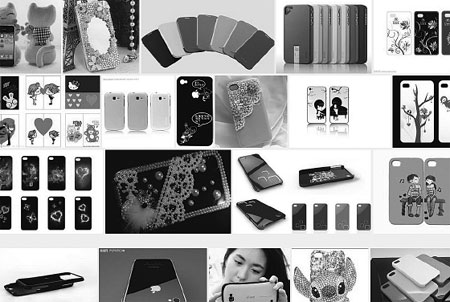 Smartphone covers are popular products that sell on e-commerce websites. Provided to China Daily
Since I arrived in Beijing last summer, I have taken to the underground train system like a duck to water. I have used the subway to travel to work, visit tourist sites, run petty family errands, meet friends and even while away time.
The mass transport network is also where I have observed with great fascination the vast majority of Chinese women commuters using cell phone safety cases that range from depictions of warehouse Communist art to the Japanese cartoon cat Hello Kitty.
In the delicate era of smartphones, owners need to take greater care of their devices. But oh! I sorely miss the bygone "dumb" phones for their toughness.
As part of my self-commissioned study, I looked up e-commerce websites to find that whether on Amazon or China's Alibaba, cell phone accessories - especially covers - were priced anywhere upwards of $1. Makers of phone cases have entire categories to sell provided you have the money.
Covers are futuristic, electroplated, waterproof, leather, metallic, animal prints, hard and soft - you name it.
Line 1 on Beijing subway is the route on which I discovered a connection between stops and cell phone cases. Women who board the train from the eastern part of the city are more likely to be found carrying hard and metallic covers while those who live and work closer to the central business districts seem to flaunt gemmed cases.
Most of the affluent young women commuters who alight from trains at Guamao station, for instance, are more prone to coordinate phone fashion with their clothes, cosmetic makeup and shoes as compared to elderly retirees or middle aged working class women who change over to the Batong Line at Sihui station.