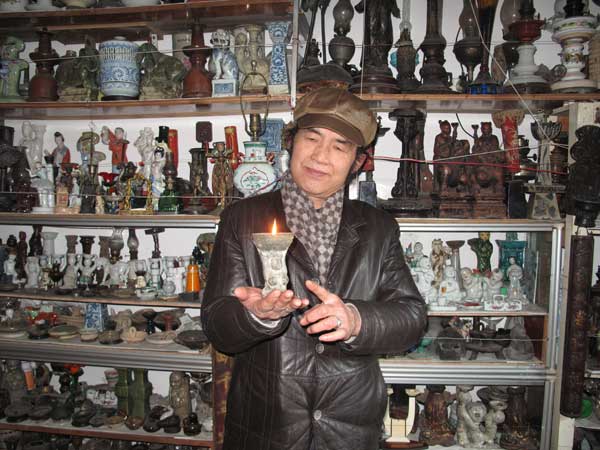 Yao Yulin shows an oil lamp dating back to the Western Han Dynasty (206 BC–AD 24)in his apartment stacked with ancient lamps and candleholders of different dynasties and from different countries. Photos by Huang Zhiling / China Daily
A lamp collector hopes his museum will illuminate how humans have harnessed light over millennia. Huang Zhiling reports in Chengdu.
Nearly a decade after Yao Yulin had to build a pavilion atop his apartment building because his lamp collection had outgrown his home in 2004, a light bulb went off in his head - he'd open a museum. That idea is set to become a reality in April when the Chengdu Yuyao Ancient Lamp Culture Museum will open in - appropriately - Chengdu's Jinfu Lamp and Lantern Town.
Yao has struck a deal with Southwest China's largest lamp dealer to open a roughly 500-square-meter museum.
"It will be the first museum of its kind in Sichuan," Sichuan Provincial Department of Culture museum division chief Li Pei says.
Yao is excited to display the more than 3,000 lamps from myriad dynasties and countries he has collected since 1980.
"I find them very interesting because the materials, sizes, workmanship and styles are different."
Yao's lamps span from the New Stone Age to present day.
Some of his best specimens include a Southern Song Dynasty (1127-1279) stone Buddha-shaped lamp that weighs more than 200 kilograms and a 15-cm-high mosquito-killing lamp from the Qing Dynasty (1644-1911).
The Buddha has 38 troughs on its head, chest, back, feet and toes to hold oil lamps. Ancient people would visit such a Buddha at temples, light a lamp and place a lamp on the part of the Buddha's body corresponding to that which afflicted them.
For more China Face,
here