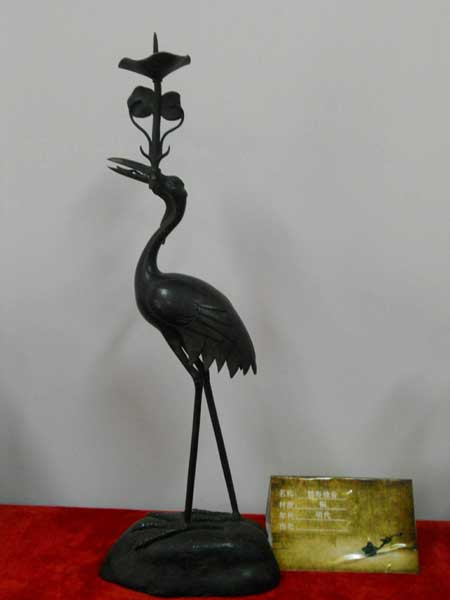 A candleholder of the Ming Dynasty (1368-1644).
"If they had a chronic headache, backache or leg pain, they'd light an oil lamp and insert it on the trough on the head, back or leg of the Buddha," Yao explains.
"Lamps are the epitomes of particular times in human history and reflect their respective periods' productive forces," he says.
About a dozen models are from other countries, including the former Soviet Union, Nepal and the Netherlands.
His collection goes beyond lamps to other illumination technologies. These include lamp molds from the Qing Dynasty, when lamps were made of tin, ancient Chinese candleholders and flashlights belonging to the American Flying Tigers in the 1940s.
Yao recalls finding a lamp with four strange characters while on business in the Inner Mongolia autonomous region's capital Hohhot. He intuitively knew it was special.
But the 59-year-old civil servant from Chengdu's culture bureau didn't have the 3,000 yuan ($492) on him to pay what the store owner asked. That was almost Yao's monthly salary.
But he snapped photos of the lamp to study.
Yao's research determined the characters were from the language of the Western Xia (1032-1227), a feudal kingdom established by the Tangut ethnic group at the eastern end of the ancient Silk Road. Its territory largely overlapped today's Ningxia Hui autonomous region in Northwest China.
The language became extinct after the kingdom's demise.
For more China Face,
here