What's in a name? Just about everything
Updated: 2011-10-12 10:34
By Ellie Buchdahl (China Daily)
| | | | | | | | | | | |
| --- | --- | --- | --- | --- | --- | --- | --- | --- | --- | --- |
|   | | Comments() | | Print | | Mail | | Large Medium  Small | 分享按钮 | 0 |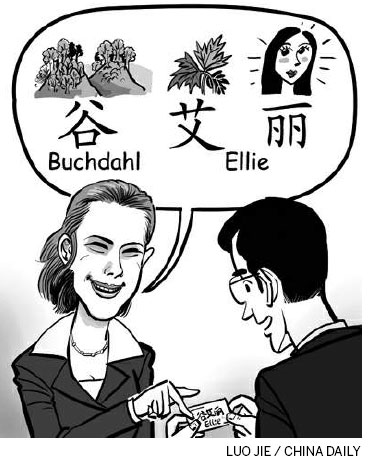 Business cards are almost as important as the names themselves in China.
I'd perfected the technique of accepting someone else's business card - receive with two hands, make sound of great reverence, peruse, comment on how impressive his or her job/street/mobile number is, peruse again, nod with satisfaction, place into wallet in manner that suggests you will peruse once more at home.
However, it was getting somewhat embarrassing that I couldn't complete the last step of the ritual - handing over my own business card.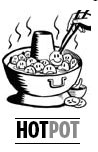 It's also worth noting that my English surname has been the subject of confusion and great mirth. When my Chinese teacher asked me, "What is your surname", it took three attempts to convince him that I wasn't just saying bu zhi dao - "I don't know".
It was high time I dispensed with such silliness and got myself a Chinese name.
So I approached my colleague Albert (Chinese name Xuan Lu (翾鲁), which is as cool and unusual as he is) - who puts up stoically with all my random demands to translate words into Chinese, and demanded that he made me a name.
I had a few requirements, naturally. First, my new name needed to sound acceptably close to "Ellie". Second, it had to be in fairly simple characters that I could actually write, considering how ropey my calligraphy is. Third, it had to mean something nice.
And fourth - and most importantly - it had to be an unusual and distinguished-sounding name.
Albert came up with "Ai li" (艾丽). The second word means "beautiful", he told me. The first was very unusual, and once the name of a famous nobleman, he added. Finally, the whole package sounded like Ellie. Perfect.
Next step was to approach my boss to ask about those cards. She agreed that Ai Li was a good call - but I needed a proper family name. She would think about it over the weekend. Delay on the card.
But that weekend, a passing Chinese teacher heard about my quest for a name. Taking me to one side, he conjured up a surname for me based on the meaning of "Buchdahl" - "valley of the beech trees". Gu (谷), he said, means "valley". But you had to specify it was "shangu de gu" (gu as in a valley gu), and not the gu for grain, millet or rice with the husk. Also, it is a metaphor for modesty, which is of course utterly appropriate for yours truly.
My boss, however, did not think it sounded close enough to "Buchdahl". I protested that I was more than happy to get as far away as possible from the mess of unpronounceable, hacking North German that makes up my actual surname, but she presented me with a two-page document of variations of bu and bo. Meanings ranged from cloth to nourish to sowing seeds to magnificent to nobleman to beautiful (again).
But I was pretty set on Gu. Maybe it's the fact that I can draw the little tree-like character, even if it does resemble the international symbol for "picnic spot". More likely it reminds me of this brand of chocolate souffl desserts you get in the United Kingdom called Gu Puds, which are the downfall of every guilt-ridden, treat-seeking British woman.
Eventually I persuaded her and the order for my business cards went out. Gu Aili (谷艾丽). Excellent.
It was only then that I looked a little closer into the dictionary. While 丽 does indeed mean beautiful, 艾 does not translate so attractively into English.
It stands for mugwort.
Aka "Old Uncle Henry", "Sailor's Tobacco" and "Naughty Man". What's more, it looks like the sort of thing my grandma would pull out of her begonias during a good day's weeding.
Still, apparently it smells nice. And it's "beautiful", of course, according to the rest of my name.
This is Chocolate Pudding Naughty Man Beautiful signing out.