Confessions and conversions of a bibliophile
Updated: 2011-09-08 16:02
By Sandra Lee (China Daily)
| | | | | | | | | | | |
| --- | --- | --- | --- | --- | --- | --- | --- | --- | --- | --- |
|   | | Comments() | | Print | | Mail | | Large Medium  Small | 分享按钮 | 0 |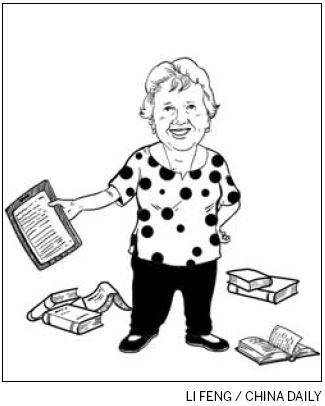 Reading isn't something I do now and again. I have been reading for as long as I can remember. Once, when I was very young, I was with my parents at their friend's house reading comic books and the friend was worried that I'd be bored with the adult conversation. My dad laughed and said, "As long as she has something to read, she is happy." This is as true today as it was all those years ago.
Like most passionate readers I love everything about a book. The titles on a bookshelf, the cover art, the feeling of anticipation as one opens a book for the first time. The way it feels in the hands, turning the pages, the smell of the paper, reluctantly turning off the light at night when sleep makes reading "just one more chapter" difficult.
I have spent entire vacations reading, forcing myself to move around once in a while for fear of growing into the chair. I never go anywhere without something to read in my bag. When I travel, I always pack several books and magazines. A day without a newspaper is a major loss in my world.
So when e-books emerged, I was like most book lovers and said emphatically, "No way!" A bit of plastic instead of the paper and print and all the sensory thrills that go with it? Not for this girl, thank you.
Yet, rarely is life ever so cut and dried. I live in China and getting books to read has been a challenge. This situation has greatly improved in the past few years, but it still is catch-as-catch-can. What is on offer is often a mish-mash with far too many of those old books which we avid readers finished years ago. Those of us who love books eagerly seek each other out and swap books and most of us return from visits home with suitcases loaded with books.
With all the difficulties in feeding my addiction, I began to toy with the idea of an e-book reader, but each time I drifted that way I'd pull myself up sharply with how soulless it was. I did look them over each time I was in the United States but clearly they weren't for me. Until, that is, a friend gave me one as a gift.
I returned to China not at all sure I'd use it much but I couldn't have been more wrong. In fiddling with it I realized that the world of books was at my fingertips. I got more and more excited by the possibilities. I ordered a few free books just to see how it worked and I was hooked.
I began to look up favorite authors to see what they'd been up to since last I'd happened to find one of their titles. I learned that I could order "samples" of 40 pages in any book I fancied and if I wasn't really interested I could delete it. If I loved it, I just ordered it and it was there in moments.
Magic! Instead of bulky and heavy books, I pop my nearly weightless e-book reader into my bag and now my suitcases weigh a lot less.
I had some books on my shelf I hadn't read and I finally put my new toy down and began to read one of my "real" books.
To my amazement, instead of reveling in the turning of the pages, the familiar feel and smell of it, I found myself annoyed that the pages needed to be held down and I noticed it was heavy in my hand and after reading for a while I decided I didn't much like the story, but there was no deleting this one, free of charge.
I've got to eat my words. E-books, "not for this girl?" Oops. I take it back. I love having a bookstore at my fingertips. I think I'll find someone to give my "real" books to.