A trim at the barber that raised eyebrows
Updated: 2011-03-11 16:07
By John Clark (China Daily)
| | | | | | | | | | | |
| --- | --- | --- | --- | --- | --- | --- | --- | --- | --- | --- |
|   | | Comments() | | Print | | Mail | | Large Medium  Small | 分享按钮 | 0 |

They say the eyes are the window of the soul. In that case, eyebrows must be window frames. There's nothing quite like well-shaped eyebrows to set off a girl's peepers.
When I was 13, a classmate, experimenting with an electric razor, got carried away and shaved off his eyebrows. He looked like a boiled egg.
There's a shop assistant in a bakery on Huixindongjie in Beijing who has the most luxuriant eyebrows and a husky voice. A man could fall in love with that.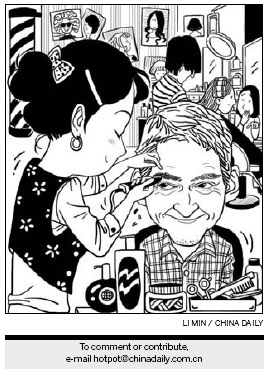 I'm interested in eyebrows because I have a constant battle to tame mine. Left unchecked, I could grow a thick monobrow.
So the first time I visited the barbers in Beijing I asked, or rather indicated by mime, that I would like my eyebrows trimmed.
I should explain that a trim at the Gentleman's Barbers in Glasgow costs 8 pounds ($12, plus a 1 pound tip). You may have to wait in a queue for five minutes, but the time passes pleasantly enough.
There are large video screens showing football and boxing.
A haircut (dry cut) takes about seven minutes from start to finish. It's at this stage that I usually ask for my eyebrows to be trimmed. The barber spends a further 10 seconds trimming each eyebrow with battery-operated clippers.
I didn't expect that a haircut in China would be much different. But I was completely mistaken.
My mime to have my eyebrows trimmed caused great hilarity. Word spread around the salon. Two barbers laughed out loud. Other customers smiled in my direction.
Since then, I've been told that eyebrow shaping in hairdressing salons is normally confined to women customers.
In my case, a young woman hairdresser was summoned, who sat me down in another chair. She opened a small tin containing tweezers, scissors and a razor blade.
I closed my eyes and enjoyed the experience. First came the scissors, then tweezers, then razor and after careful inspection, scissors again. Then I was taken to have my eyebrows washed and dried before a final trim.
The haircut was equally exacting: First the hairdresser's assistant, a young woman, applied shampoo. Then she worked up a lather, massaged my skull, squeezed it (how could hands so small be so strong?) and then took me to rinse my hair.
Past experience has been that at this juncture you usually get scalded or have water sprayed in your ears, or get your collar soaked, or all three.
Not at my new Chinese hairdresser's. I was asked if the water temperature was comfortable (at least I guess that's what she said) and was given a thorough rinse. My ears were deftly protected from any ingress of water. My collar remained dry.
I indicated to the top male stylist what I wanted and closed my eyes for a second time. When he was done I was pleased with the result.
My hair was washed a second time and then dried. I paid the fixed price of 25 yuan ($3.80) and glanced at my watch. I'd been pampered for 40 minutes.
The next time I went to the hairdressers, about six weeks later, the girl who had trimmed my eyebrows pointed to her own and burst out laughing. I nodded yes and was ushered to a chair for a repeat performance.
I'm happy to say I can look forward to many more visits to the hairdressers in Beijing. Despite my advancing years, I still have a full head of hair.
Scientific research has shown that male pattern baldness varies among different races. Did you know that the men least likely to lose their hair to male pattern baldness (known as androgenetic alopecia) are Chinese men?
Up to 80 percent of Caucasian men will suffer from hair loss and male-pattern baldness by the time they are 60. But the figure for Chinese men is only 40 percent.
My father, who is now 92, still has a fine head of hair. Thank God.
Perhaps, going back centuries, we share Chinese genes?