We had just feasted on a sumptuous seven-course Cantonese dinner and I was about to enjoy my usual dessert - a soothing cigarette - when all hell broke loose. "Do you mind Patrick?" my Chinese friends shouted. I was stunned. They were Beijingers, we were in a Beijing restaurant and they were protesting against me lighting up. This had never happened before and suggested to me that China is changing.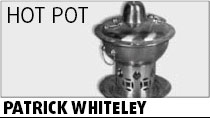 I wonder if smoke-free restaurants will one day become a "Chinese characteristic"? I live in a nation where it's normal for a diner to be equipped with chopsticks in one hand and a cigarette in the other. I've even seen someone light up in a crowded elevator.
I respect the rights and lungs of non-smokers and inside a confined space. I wouldn't dare light up in front of my non-smoking friends, but in a designated smoking area (ie, all of China) I will smoke to my heart's content.
A non-smoker will say my heart is not very contented at all, but that's my business. If a militant non-smoking crusader feels the need to tell me how to behave, I usually feel the need to point out their many shortcomings. Everybody has one bad habit or another and mine is smoking. I smoke because I am addicted to nicotine and have been for about 20 years. One day I'll stop, but I know I must really, really want to. Maybe if I have children. But it will be hard because I love the process so much, especially with a fellow smoker.
Last week I enjoyed a Sichuan hotpot with a Beijing police officer, and we both sweated like pigs and smoked liked chimneys.
Officer Zhou Bo had attended a seminar in Australia, where he befriended one of my childhood mates, a senior Sydney cop. I was given Zhou's number and when I arrived in Beijing, we hooked up.
Zhou is good company and we both enjoy a smoke or four during our hotpot sessions. We always seem to order too much food and dinner takes a leisurely two hours. Both of us pause during the meal and light up. Zhou holds a cigarette like a candle, and smokes it from the side of his mouth. He enlightens me about the fascinating world of a Beijing police officer and we exchange gifts. I gave him New South Wales Police Service badges and he gave me a carton of YunYan smokes made at the famous Kunming Cigarette Factory.
When I first arrived in China, I waltzed through the duty-free shop and bought Pandas, the smokes Deng Xiaoping used to enjoy. I tried about 10 of the 100 brands out there before I settled on my beloved Hong Ta Shan. When cigarettes cost 7 yuan ($1) a packet, compared to 80 yuan ($10.80) back in Australia, it's even harder to quit.
When my friends protested against me smoking at the Cantonese restaurant table, I was shocked, because nobody had ever scolded me for smoking in a restaurant in China. But I agree with them 110 percent. Why should they have to breathe in my smoke? I praised them for speaking up and told them their unusual directness and straightforward candor was a call for celebration. "A cigar maybe?"
(China Daily 12/12/2007 page20)