Show traces influence of Zhao Mengfu on Chinese painting and calligraphy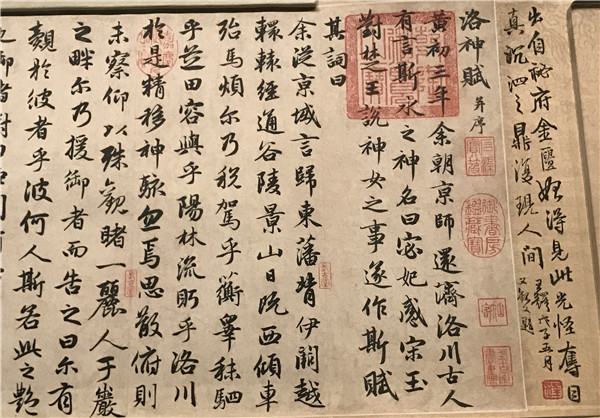 The ongoing exhibition at the Palace Museum, Paintings and Calligraphic Works of Zhao Mengfu, featuring more than 100 works by the versatile artist and by those from whom he learned, as well as by his students or followers in imperial China, gives a panoramic view of Zhao's art. [Photo by Yao Ying and Wang Kaihao/China Daily]
The horse is a popular theme in Zhao's paintings.
For example, Watering Horses in Autumn Suburbs, which is on display, depicts an official's excursion in autumn, and is probably Zhao's most recognizable painting.
It has bright colors and features techniques from calligraphy.
Arhat in Red, an exhibit on loan from the Liaoning Provincial Museum, is another of Zhao's works on show. It is considered to be a good example of the portrayal of human expression.
Among his students featured at the exhibition is Huang Gongwang, who did the iconic Dwelling in the Fuchun Mountains.
Zhao's influence can also be seen in many other major Yuan Dynasty painters' works, which are on show.
Dong Qichang, a Ming Dynasty (1368-1644) painter, attributed much of his inspiration to Zhao.
Meanwhile, Wang Lianqi, a scholar from the Palace Museum who studies Zhao, says: "It's unfair to connect Zhao's political views and his art."
"Also, the reason some people criticize his calligraphy is because there are so many forgeries."
The exhibition has a section juxtaposing Zhao's works with the fakes.