Show traces influence of Zhao Mengfu on Chinese painting and calligraphy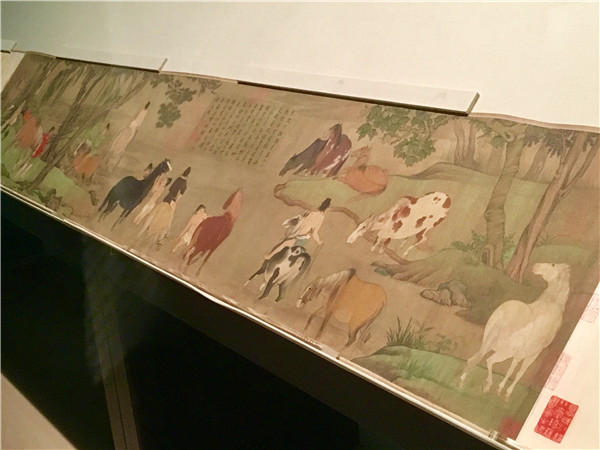 The ongoing exhibition at the Palace Museum, Paintings and Calligraphic Works of Zhao Mengfu, featuring more than 100 works by the versatile artist and by those from whom he learned, as well as by his students or followers in imperial China, gives a panoramic view of Zhao's art. [Photo by Yao Ying and Wang Kaihao/China Daily]
Zhao Mengfu (1254-1322), who was a Song Dynasty (960-1279) royal, made a controversial move to switch loyalties to the Yuan Dynasty (1271-1368). But that is not his claim to fame.
He is better known for his contribution to Chinese painting and calligraphy as visitors to the Paintings and Calligraphic Works of Zhao Mengfu, an ongoing exhibition at the Palace Museum in Beijing, will testify.
The exhibition features 102 works from the museum and other key institutions around the country like Shanghai Museum and Liaoning Provincial Museum in Shenyang.
According to Wang Qi, deputy director of the calligraphy and painting department at the Palace Museum, 48 of the exhibited works were done by Zhao and the rest are either works from which Zhao learned or were done by his students or followers in later dynasties.
"They (the works) give a panoramic view of his art as well as his influence," he says.
The exhibits thus have a wide time frame-from the Tang (618-907) to the Qing (1644-1911) dynasties.
Wang says Zhao is a unique figure in Chinese fine art history.
"Zhao was very versatile. He was skilled with different types of scripts in calligraphy: regular, cursive, official and running."
In the painting field, Zhao developed a series of art theories. He advocated freer expression and a closeness to nature, in contrast to the later Song painting style emphasizing a rigid and accurate portrayal of objects.
"His themes are many. He did landscapes, figures, flowers and birds and bamboo," says Wang.