Rare Song, Ming porcelains to be auctioned in HK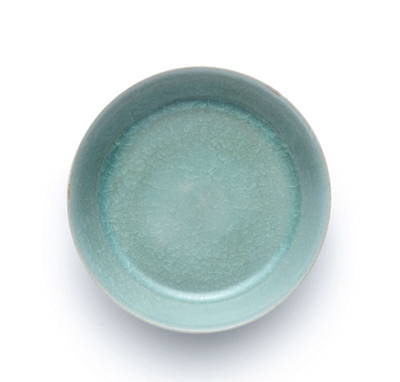 The azure glazed Ru brush washer. [Photo provided to China Daily]
The rare Ru ceramics are so celebrated that they have inspired prose. Only a handful of pieces are in private hands, leading to great interest among collectors. Lin Qi reports.
There are many poetic descriptions of the Ru porcelain, named after its production site Ruzhou, Henan province, which is hailed as one of China's "five great kilns" in the Song Dynasty (960-1127). One famous line of prose written in its praise compares its distinguished celadon color to "the blue of the sky in a clearing among clouds after the rain". Another describes air bubbles in the lustrous green glaze as being "as sparse as the stars at dawn". It's believed fewer than 100 complete specimens of Ru porcelain exist today. Most are in museums in China and overseas. The dearth of privately owned pieces makes them highly sought after in the market.
That's why a "sky-blue" glazed Ru brush washer that will go under the hammer at a Hong Kong auction on Oct 3 has created a sensation among Chinese collectors.
The washer, with a diameter of 13 centimeters, is now in the Le Cong Tang collection assembled over the years by Robert Tsao, a Taiwan entrepreneur and noted collector of Chinese art. Sotheby's will auction it during its major autumn sale.
Sotheby's Chinese works of art department chairman Nicolas Chow says 87 pieces of Ru porcelain are known to exist. The washer is "one of the only four known pieces, which have survived in private hands".
He says it's "exceptionally glossy, with an icy crackle layer atop of the densely blue-green glazing" and in pristine condition.
Fine, decorative crackles-also called kaipian-are like the patterns on cicada wings. They're one of Ru wares' distinctive characteristics.