A Ming Dynasty wucai porcelain jar to go under the hammer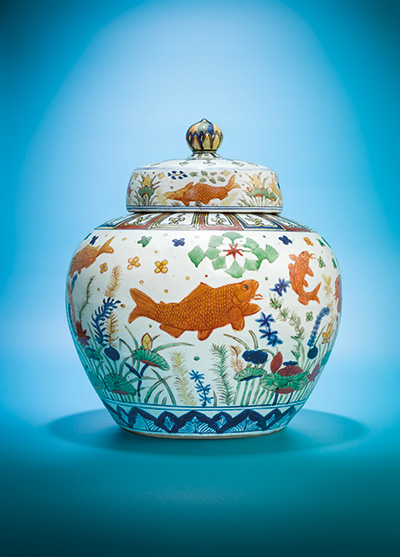 46-centimer-high wucai [Photo provided to China Daily]
Wucai, (five-color) is one of the most prominent styles of Chinese porcelain. It features application of over-glaze polychrome enamels, mostly of red, green and yellow, combined with under-glaze cobalt blue (
qinghua
).
The technique developed into maturity in the 16th century during the rule of Ming (1368-1644) Emperor Jiajing. Both official and civil kilns produced exquisite wucai ceramics, which boast varieties of ornamental patterns and a vibrant palette.
One such ceramic will be auctioned in Hong Kong in November.
Christie's will hammer a 46-centimer-high wucai jar with a cover and bearing a production mark of Jiajing reign at the bottom.
The object is decorated with a lively scene in which fishes swim freely among weeds. A similar example is in the collection of Beijing's National Museum of China.
The jar to be sold used to be in the possession of Hu Huichun (1910-93), one of the most important Chinese connoisseurs and collectors of 20th century. He assembled a celebrated collection of Chinese works of art called the Zande Lou, or studio of temporary enjoyment.