Artist and his students show Shaanxi countryside in new light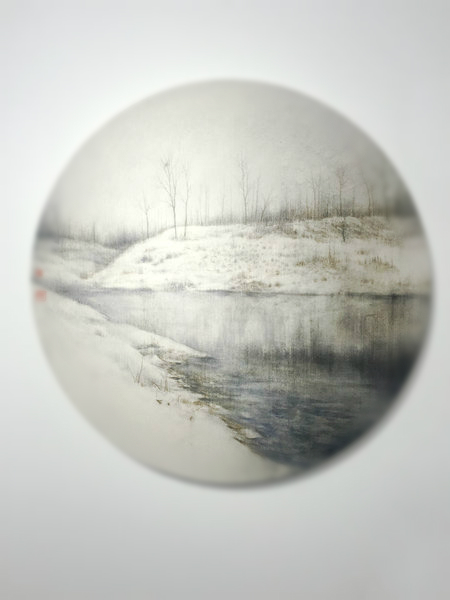 An ink painting by Dang Zhen shown at the exhibition "Beacon Light" in Beijing, April 15, 2017. [Photo by Li Hongrui/chinadaily.com.cn]
On a hot summer-like Saturday afternoon, visitors found some solace at 751 Fashion Echo art gallery in Beijing as they wandered through a new ink painting exhibition titled "Beacon Light".
In the colors of dark and light grey and blue, trees and rivers in the paintings look like a fairy land where magical creatures could appear at any time. While in others, two people cuddle or children hold hands as they happily play under a tree.
Created by veteran artist Dang Zhen and his 12 students, the ink paintings show views of Shenyangya, countryside in northern Shaanxi province.
Dang encouraged the young artists to show their modern and individual understandings of North Shaanxi through traditional Chinese ink painting.
"The exhibition's theme is Chinese ink paintings and the exploration of contemporary Chinese ink paintings has had 20 to 30 years. The creation of each generation of artists would be influenced by outside world," Dang said. "At present, there are many things that might affect an artist and his or her life. I wish the exhibition could show the young generation of artists' interpretation and creation, and let more people know their works."
Dang hopes the young artists can have more confidence and keep creating throughout their artistic career that may have seen a slow start.
"The inheritance of traditional Chinese ink paintings need to be carried on via generations of creation," Dang said. "I hope people pay more attention to these young painters, for they have more ability to create."
Born in Shandong province in 1973, Dang often portrays the beauty of nature in his water and ink works, in which the nature looks like an aesthetic and poetic dream.
Curator of the exhibition, Wang Tao, said the landscape of northern Shaanxi inspired the young artists. And it could become a source of inspiration to their future creation.
Using brushes, the young artists use similar locations as inspiration for their work but the pieces each turn out very differently as they see and interpret things as such.
Critic Rasko Radovic said the paintings reminded him of "a graceful face" of an old wise man. The young artists' works, showing different parts of northern Shaanxi proves the flexibility and creativity of traditional Chinese ink painting skills.
"These Shaanxi sceneries remind me of a graceful face of an old man whose wrinkles are a testimony of a ling, productive and meaningful life. In winter pleasantly grey in spring bursting into countless flowering trees," Radovic said. He considered the young painters "innovative masters" of Chinese ink paintings.