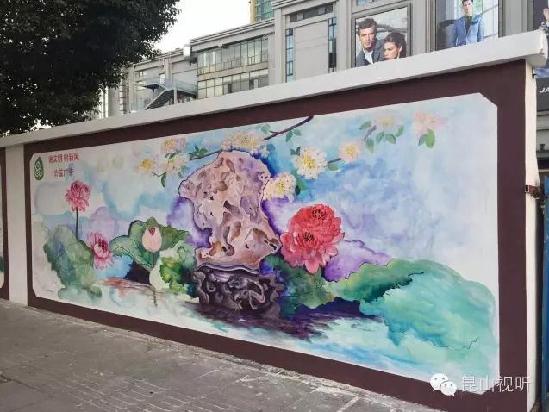 A street in Kunshan is brightened up by a freehand wall painting depicting lotuses, qiong flowers (a kind of hortensia) and grotesque rocks, which are three of the cultural jewels of Kunshan. [Photo from WeChat account ksntv0512]
Kunshan city's beautiful scenery and profound culture have long been one of the cultural jewels of East China's Jiangsu province. Now, this jewel is set to shine even brighter, as a team of local artists have completed a beautiful series of freehand murals on walls across the city.
Traversing the length and breadth of downtown Kunshan from Civic Cultural Square to Zhenchuan Road, the paintings cover more than 1,000 meters of wall space.
The works mainly focus on a number of themes, such as "picturesque Kunshan" and "good local traditions and customs".
"I'm delighted to see my city getting more beautiful, and the freehand wall paintings encourage me, as well as other citizens, to cherish and protect our homeland," said one local resident.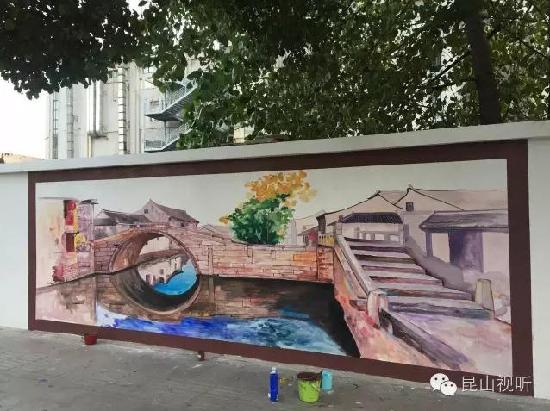 A freehand wall painting depicting Hengsheng Bridge in the water town Qian Deng [Photo from WeChat account ksntv0512]
Yu Maoqing, head of the mural painting team, also expressed his pride in the artworks. "It's an honor for me and my team to make Kunshan a better place, and these fine pieces open new windows, not only to tourists and investors, but also to us local residents," he said.
"It's the artists that depict the beautiful scenery of the city, and actually it's the artists themselves that make this city a beautiful place to live," added another passerby.
The mural painting project was launched by Kunshan municipal government as part of the city's campaign to win the title of "National Civilized City", awarded by China's central government each year.