2016-11-11
Zhenwei Jiangnan, located toward the east end of Nanshi Street, is an eatery dedicated to serving genuine Jiangnan snacks and desserts with flavors characteristic of Zhouzhuang. Visitors are able to savor delicacies from the new seasonal menu while enjoying the picturesque late autumn views outside the restaurant
2016-11-02
It is a Chinese tradition to change one's diet and routines with the season. A common belief among Chinese citizens is that the consumption of food tonics during cold seasons is beneficial to the improvement of nutritional, producing effects not possible by medication.
2016-09-22
A new eatery is set to open in the picturesque water town of Zhouzhuang in Sept 22, serving up local Jiangnan delicacies and treats as well as providing customers with unique views.
2016-09-08
Here are some recommended seasonal delicacies in Kunshan, Jiangsu province.
2016-08-23
Foodies need only follow their nose to discover a wealth of tasty treats and local specialties on offer in Zhouzhuang, a water town in Jiangsu province.
2016-05-17
The town is hosting a cooking contest among natives and new settlers in the town on the day, as part of the third Gourmet Festival.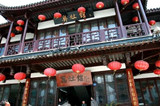 2013-07-18
Add: No 155, Tinglin road, Kunshan
Tel: 0512-57553979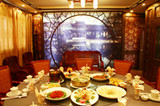 2013-07-18
Add: Shaoqing west road, Qiandeng town, Kunshan
Tel: 0512-57472777
Like Christmas Day in the West, it is traditional in China to cook up an enormous feast on Chinese New Year, with dinner tables groaning under the weight of dozens of dishes.