Ming ceramics to be highlight of Hong Kong auction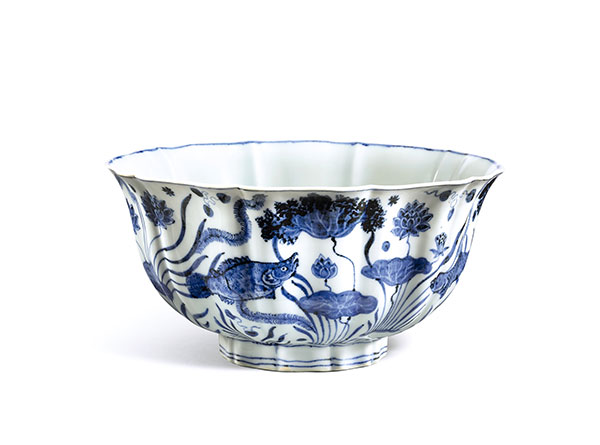 Sotheby's Hong Kong sales of Chinese porcelain on April 5 will auction a blue-and-white qinghua bowl dated to the Xuande period. [Photo provided to China Daily]
On April 5, several refined examples of imperial porcelain from the Ming Dynasty (1368-1644) will be auctioned in Hong Kong. They feature a variety of patterns and methods of applying glazes, and indicate the varied tastes of collectors of Chinese art in different continents.
Among the lots, the one that will really cause a stir is a blue-and-white qinghua bowl standing 23 centimeters high, and decorated on the exterior with a dynamic scene of four fishes swimming in a pond of blossoming lotus.
The bowl was crafted in the early 15th century during the reign of Emperor Xuande (1426-35), a period in which blue-and-white ceramics were produced in official kilns and is now recognized as the apex of China's porcelain-making history.
Once an imperial possession, the bowl is now in a private Japanese collection, and is coming to the open market for the first time, according to Nicolas Chow, chairman of Sotheby's department of Chinese works of art.
The bowl will appear in Sotheby's Hong Kong salesroom during the major spring sales.
"It is a piece that is very well-known in Japan, having been exhibited in the Tokyo National Museum in 1963, and the Kyoto National Museum in 1966, and published extensively thereafter," Chow said.
Quality objects coming to the market for the first time, or after an interval of several decades, are known as "fresh goods" by bidders, and therefore often arouse intense excitement.
Another highlight will be a blue-and-white moon-shaped flask dating from the Yongle period (1402-1424), during which quality ceramics were also produced. The piece comes from another private Japanese collection, the Tokyo-based Idemitsu Museum of Arts, which displays the collection of Sazo Idemitsu (1885-1981), a businessman and collector. The piece will also be sold at Sotheby's.