Remembering a pioneer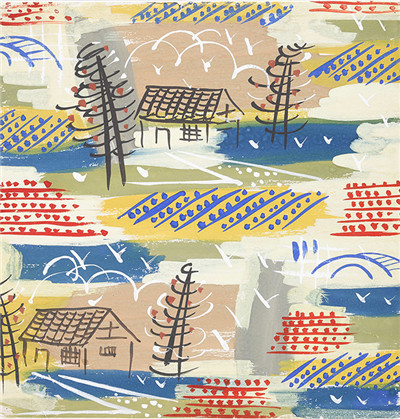 Lei Guiyuan's artistic achievements are celebrated at a retrospective exhibition showing his designs, sketches and paintings. [Photo provided to China Daily]
Lei traveled to France in 1929 and lived there for two years, learning about art and craft movements in Europe.
After returning to China, Lei drew inspiration from his cultural roots, and his designs for wall paper and dyed cloth, displayed at the ongoing exhibition, were inspired by the geometric patterns on Neolithic potteries and decorative bricks of the Han Dynasty. He also produced a set of ceramic plates which feature women wearing folk costumes that are typical to different parts of China.
At the same time, he produced a rich palette and dynamic arrangements of patterns that show the influence of Western design.
The exhibition also commemorates his role in producing designs for Beijing's Ten Architectures of 1950s, including the Great Hall of the People.
His lacquer paintings are also displayed at the show, showcasing his contributions to the modernization of the lacquer tradition in the 1950s.
Lu Xiaobo, exhibition curator, says Lei and his generation witnessed China's decline in the first half of the 20th century, and they believed that industrial development and art education could save the country.
"That is why he worked to develop dyeing and weaving and graphic, interior and industrial design. Such cross-over practices were motivated by a wish to create a suitable lifestyle for his people," says Lu.