Behind the scenes: French musical 'Romeo and Juliet'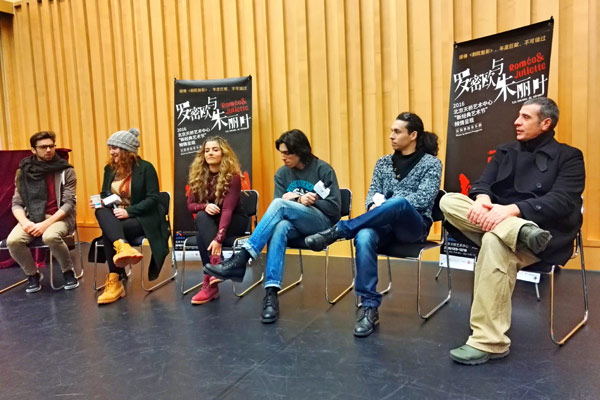 The cast of Romeo and Juliet met with fans at the Beijing Tiaoqiao Performing Arts Center on December 14. [Photo by Zhang Xingjian/chinadaily.com.cn]
Together with Notre Dame de Paris and Les Miserables among the top three musicals in French, Romeo and Juliet has enjoyed many honors.
"If you can only watch two Shakespeare's dramas in your life, Romeo and Juliet is one of them," The Times commented.
"It is a perfect combination of love story and music pieces," the Daily Telegraph said, also giving it high praise.
The show achieved huge success in the first two legs of its China tour in Taipei and Guangzhou.
Quite a few fans even came all the way from Guangzhou to Beijing just to watch the show again.
Romeo and Juliette made its Beijing debut on Dec 9 and will end its run Sunday. The show has been seen by over 6.5 million people in 18 countries since 2001.
To appreciate the great enthusiasm of Chinese fans, the major performers met with fans at the Beijing Tiaoqiao Performing Arts Center on Wednesday.
Here are some quotes from three of the musical's major performers:
Alexis Loizon: Romeo in Romeo and Juliet
"You (Chinese fans) are very passionate and I truly thank you for watching my shows!"
"A musical is of great significance to me. I played the role of 'Beast' in the musical, Beauty and the Beast before and my good performance in it gave me the chance to work with Disney."
"I will play the leading role in the Disney movie, Beauty and the Beast in 2017, which gives me a good chance to become a superstar."
Clemence Illiaquer: Juliet in Romeo and Juliet
"I love Beijing and I love Beijing Tiaoqiao Performing Arts Center. Chinese culture is amazing. I have seen the magnificence of the Great Wall."
"Beijing food is a little bit weird to me. I am not used to drinking the local mung bean milk. However, it is worth trying. Hahaha…"
"I am 19 years old. From a little girl watching the drama under the stage into a role standing on the stage, I cannot describe such a fantastic transformation in my life."
"Chinese fans are so sweet. They sent me many gifts. I hope to have more opportunities to give my performance in China."
Frédéric Charter: Prince Escalus in Romeo and Juliet
"I have played Romeo and Juliet more than 500 times and I am the oldest and most experienced actor in the musical."
"Fifteen years ago, I started playing in the drama Romeo and Juliet. Fifteen years later, I am still in the drama. However, the performing ideas and scenic arts have changed tremendously. Therefore, I do not feel bored in the role and I feel like I'm playing two roles."
If you go
7:30 pm, through Dec 18. Tianqiao Performing Arts Center, 9 Tianqiao South Street, Xicheng district, Beijing. 400-635-3355.