French musical based on Romeo and Juliet now in Beijing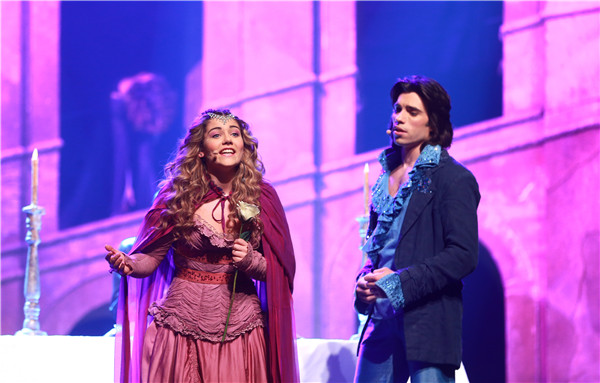 The French musical Romeo & Juliette, starring Alexis Loizon and Clemence Illiaquer, is now being staged in Beijing. [Photo by Zou Hong/China Daily]
One of William Shakespeare's most celebrated plays, Romeo and Juliet, was adapted into a musical by French composer Gerard Presgurvic in 2001.
Since its premiere in Paris that year, the French musical Romeo & Juliette has toured 18 countries, attracting more than 6 million viewers.
It is now being staged in Beijing through Dec 18 as part of its Asia tour.
The musical's producer, Eric Dumesnil, says that although it's the first time the musical is running in China, it has gained success.
It was staged in the southern city of Guangzhou in November for an audience of over 250,000.
Compared with previous musicals adapted or inspired by Romeo and Juliet, such as the famous West Side Story, Presgurvic's version captivates audiences, especially the youth, with its more contemporary style.
The French musical was updated in 2006 with new songs, stage sets, costumes and a new cast.
Presgurvic added electronic, dance, rock and other elements of modern music to it then.
Some of the musical's important songs like Aimer, or Love-a duet sung after the secret wedding of Romeo and Juliet-and the opening song, Verone-which is about the long-standing feud between their families in Verona, an Italian city where Shakespeare's play is set-are big hits in France.
"We want the audience to enjoy a version of Romeo and Juliet that they can feel connected with, such as falling in love and the desire for happiness," says Presgurvic, who wrote many French pop songs in the 1980s.