Thangka: Where devotion transcends work and art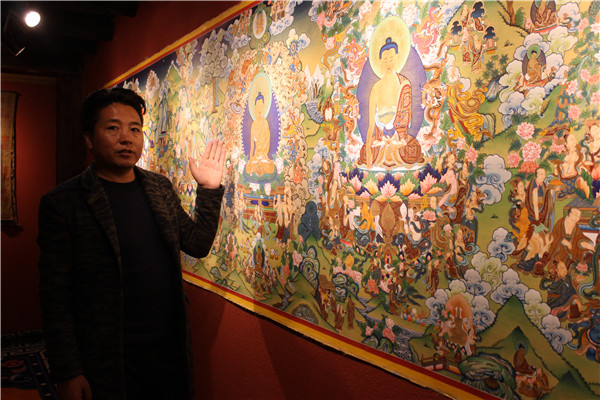 Kelsang Dawa shows his thangka collection at his painting center in Shangri-La, Yunnan province. The Tibetan art genre is energy-intensive-sometimes it takes years to finish one piece. WANG KAIHAO/CHINA DAILY
In an alley near the entrance of Dukezong, a centuries-old Tibetan neighborhood in the center of Shangri-La, hides a thangka painting center.
When visitors come to admire its exquisite silk or cotton pieces with a Tibetan Buddhist theme, the owner, Kelsang Dawa, 36, asks them to put on shoe covers before entering the gallery. He even stops a visitor talking on the telephone in front of thangka.
For Kelsang Dawa, who grew up in Rebgong, an area in Qinghai province widely regarded as the home of thangka, what he deals with every day is not only art pieces, but something sacred.
"Once you learn about thangka you are connected with it for a lifetime," he says. "For a pious Buddhist like me, promoting thangka is a devotional duty rather than just a business."
He has endured a nirvana in fire, literally.