Tim Burton brings his new dark fairy tale to China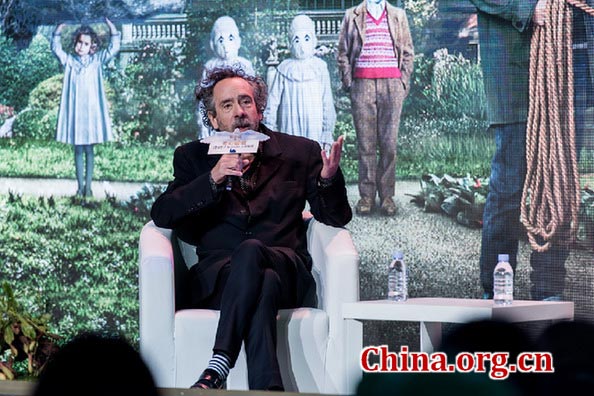 Director Tim Burton speaks at a press conference in Beijing to promote his new dark fantasy film Miss Peregrine's Home for Peculiar Children on Nov 8. [Photo/China.org.cn]

Director Tim Burton briefly appeared on stage in Beijing to promote his new film Miss Peregrine's Home for Peculiar Children and said that the tale is a wonderful bedtime story.
The dark fantasy film is based on the 2011 novel of the same name by Ransom Riggs, who Burton said has the same habit as him of collecting old photos. There were so many mysterious stories hid in the old photos, the director said. The novel inspired him, so he decided to make it into a film.
He is known for his dark and quirky fantasy films, such as Beetlejuice and Edward Scissorhands.
The director said Miss Peregrine's Home would be liked by both adults and kids. He said children didn't think the film was scary and that he added some emotion and humor elements o it rather than putting it all in a dark tone.
"I never try to worry too much about that, I think everybody has that, they go through that," Burton told China.org.cn about how he dealt with creative blocks. "The only way to describe it is to feel things, and not think so much about it. When you feel something, I don't worry too much about not having a creative drive."
He added, "It's also when you're working on a film you have so many other artists that you are working with, and creating things with. Everybody helps each other."
The film stars Eva Green, Asa Butterfield, Chris O'Dowd, Allison Janney, Rupert Everett, Terence Stamp, Ella Purnell, Judi Dench and Samuel L. Jackson. The film has grossed over $253 million worldwide thus far before it will hit Chinese theaters on Dec 2.
Related: