'Dotor Strange' rules North American box office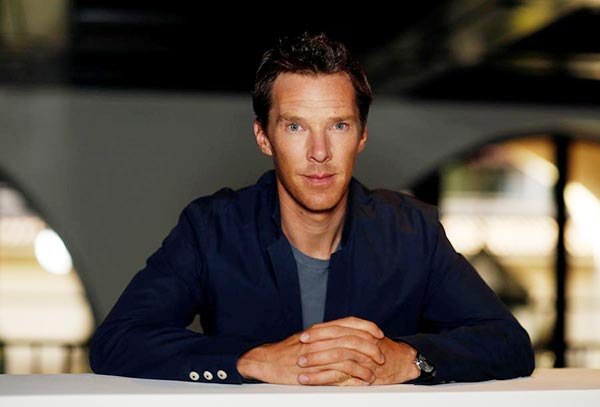 Cast member Benedict Cumberbatch poses for a portrait while promoting the movie Doctor Strange in Beverly Hills, California, US October 19, 2016. [Photo/Agencies]
Disney and Marvel's
Doctor Strange
debuted to be the number one movie at the North American box office, followed by animated film
Trolls
and Mel Gibson directed film
Hacksaw
Ridge
.
The Marvel superhero film started in first place with an estimated $85 million from 3,882 theaters in America and Canada in this weekend, according to comScore. And the weekend gate was predicted to be 16 percent greater than the same weekend last year, comScore reported.
Starring Benedict Cumberbatch and Rachel McAdams, Doctor Strange got advantage at box office than other superhero film, which is 48.5 percent above the $57.2 million start of last summer's Marvel film Ant-Man, 29.2 percent above the $65.8 million debut of this summer's superhero movie X-Men: Apocalypse. It grossed almost equal to the previous November Marvel film, the $85.7 millions opening of 2013's Thor: The Dark World.
Doctor Strange received an "A" CinemaScore from first-night moviegoers, and a 90 percent of positive rate form critics on RottenTomatoes. "Great reviews, a terrific cast and a perfect use of 3D imagery have generated a massive following," said Paul Dergarabedian, the industry analyst at comScore.
The audience for Doctor Strange was 58 percent male vs 42 percent female. The film's audience was only 8 percent teen and 33 percent under age 25, according to boxofficepro.com.
Internationally, Doctor Strange debuted ahead of North America in some markets last weekend. It took in an estimated $118.7 million this weekend in 53 markets, growing 38 percent than the previous weekend. It has grossed $240.4 million out of North America and $325.4 million for global total, which including $44.4 million in China.
Fox and DreamWorks' Trolls opened in second place, as the family-friendly musical starring Justine Timberlake and Anna Kendrick debuted with $45.6 million in sales, outperforming the $44.2 million The Peanuts Movie delivered over the same weekend last year.
The film's opening weekend audience played 61 percent female vs 39 percent male with 51 percent of the audience coming in under the age of 25. Trolls got a "A" CinemaScore from audience as well, and it received 73 percent positive rate on RottenTomatoes.
Lionsgate's Hacksaw Ridge took third place with an estimated $14.75 million in three-day weekend from 2,886 theaters. Directed by Mel Gibson, this film makes his reentry into the industry after a timeout for bad behavior.
Starring Andrew Garfield, Hacksaw Ridge is a Second World War drama. It got positive reviews including 87 percent on RottenTomatoes and an "A" from audience.
The top 10 films this weekend made an estimated total box office of $179.8 million in North America, showing more than twice time of the top 10's $74.2 million total last weekend.
Rounding out the 10 most-popular movies this week were Tyler Perry's Boo! A Madea Halloween ($7.8 million dollars), Inferno ($6.3 million), The Accountant ($6 million), Jack Reacher: Never Go Back ($5.6 million), Ouija: Origin Of Evil ($4 million), The Girl On The Train ($2.8 million) and Miss Peregine's Home For Peculiar Children ($2.1 million).
Related:
'Mechanic: Resurrection' rules Chinese box office