'The One' to be 'dark horse' in Chinese box offices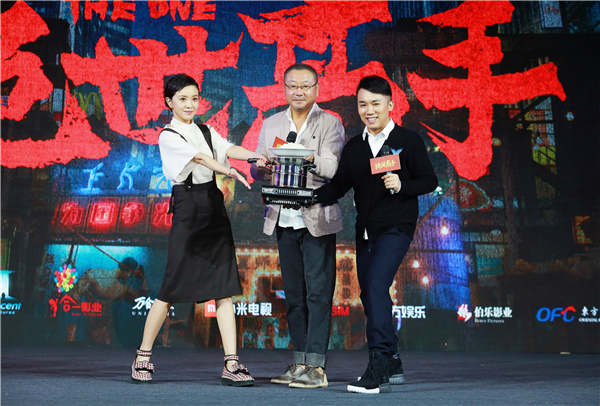 Amber Kuo, Fan Wei and Lu Zhengyu (from left to right) promotes the upcoming film The One in Beijing on Oct 23. [Photo provided to China Daily]
As a diehard fan of Hong Kong comedy star Stephen Chow, Lu Zhengyu pays homage to his idol in the upcoming directorial feature debut of The One.
Loosely based on a 2008 short film with the same name, a 27-minute blend of Chow-style nonsensical humor and mainland grassroots life, the feature expands on the content.
Set in a fictional street, the story revolves on a group of lower-class geniuses, who all have unique and confidential formulas to earn eventual career success.
The film will hit Chinese theaters on Jan 28, the first day of the 2017 Spring Festival.
Lu, who shot to prominence from the hit online series Hip Hop Quartets, reveals that The One is a comedy about delicacy.
"My philosophy reckons that human life is short and sometimes sad, so why not try the best to laugh out? That's why I select the two significant things – comedy and food – to make my maiden feature," he said during the press conference on Oct 23.
Hip Hop Quartets, which the fifth season is now running on the video-streaming site Youku.com, is China's first online series to surpass the landmark 10 million "clicks", making Lu an internet sensation. Lu writes, directs and stars as the lead of the series.
Yu Dong, president of Bona Film Group, says the film has potential to become a "dark horse" in box office.
Led by veteran comedy star Fan Wei, Hong Kong actress Amber Kuo, and award-winning actress Joan Chen, the cast also features familiar faces, such as the Japanese actor Yasuaki Kurata, known for his fight against Jet Li in Fist of Legend.
Kurata, 70, speaks fluent Chinese, revealing his role is a swordsman from Japan.