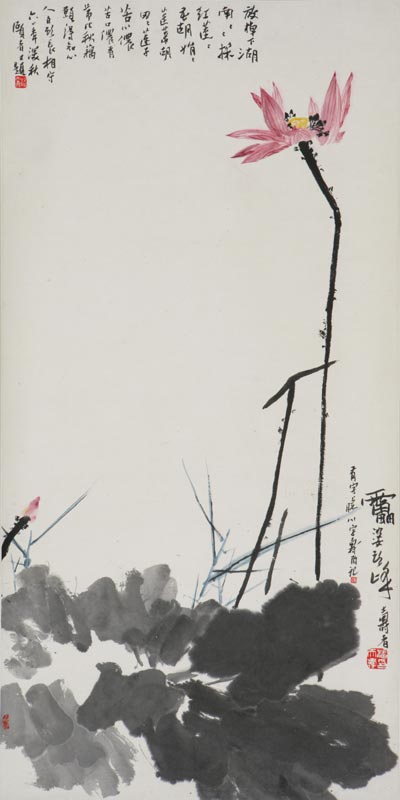 Red Lotus (1961) by Pan Tianshou. Photo provided to China Daily
A testament to that is Morning Dew, painted in 1958 and inspired by a trip to the Yandang Mountain in Zhejiang province. Pan invested much energy in constructing a unique composition: The lotus flowers and leaves as well as the annotation form a space in the middle.
"The blank doesn't mean emptiness in the Chinese painting. It has brought out the volume and the inner power of the work," Deng says.
Qi Baishi and his disciples further extended Wu's influence to Beijing and the bordering areas and based on which, Qi developed his own style.
His Pine Tree and Eagle fully demonstrates Qi's capability in presenting variations of ink color and handling thick and thin lines. Qi was famous for meticulously detailing insects and sculpting birds.
"Qi infused to perfection the literati's sentiment with senses of rustic life. He laced his works with humor and childlike innocence," Deng says.
Wu started to learn painting systematically in his 30s. For years he explored extensively with seal cutting, calligraphy and epigraph art which further nourished his mastery of ink-and-wash painting.
"Wu is unrivaled in carving out a niche in painting, calligraphy and seal art. If we should name the best 10 calligraphers, seal artists and painters, Wu appears on all the three lists. Few can approach his accomplishments in art history," Chen Zhenlian, deputy president of the prestigious Xiling Society of Seal Art, told Southern Metropolis Daily. An ongoing exhibition at the Zhejiang Art Museum commemorates Wu and the society's 110th birthday. Wu was elected the Hangzhou-based society's first president in 1913.
"He possessed strong social awareness. He believed artists should not just paint for themselves. Art should serve the public."