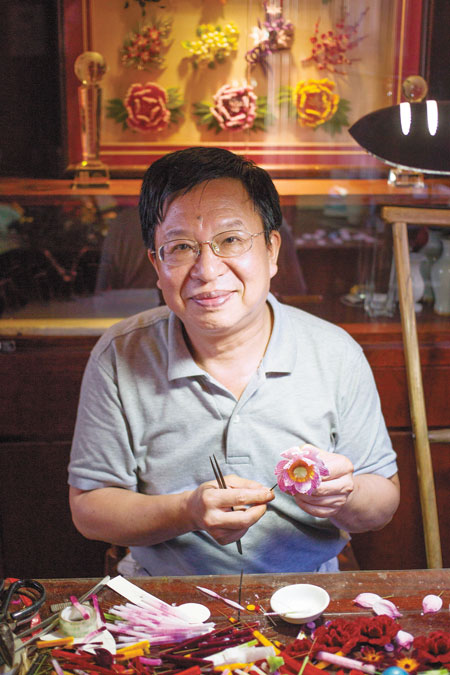 Zhao Shuxian, 59, one of the few velvet flower craftsmen in China, started his apprenticeship in the industry in the 1970s. Gao Erqiang / China Daily
He may be the only person left who knows how to make the velvet flowers popularized in the Tang Dynasty, and he is anxious that the skill not be lost forever. Xu Junqian reports from Nanjing.
Zhao Shuxian, 59, may be the most carefree "gardener" in the country. At his 20-square-meter "garden" tucked away in a century-old residence in Nanjing, Jiangsu province, plum blossoms appear together with lotus, peonies and lilies all year around, be it the cold, snowy winter or scorching, arid summer.
Zhao is not capable of any magic: The flowers are artificial, handmade creations made of velvet and can bloom for centuries, if not forever.
Velvet flowers, the most common and popular accessory on ancient Chinese women's dressing tables, have been, like hundreds of Chinese traditional handicrafts, consigned to oblivion in recent decades.

In early 2012, however, flowers in Zhao's garden, or more accurately, his cramped studio, have experienced a new spring with the visit of Lawrence Xu, the Chinese haute couture dress designer who gained international fame for the "dragon robe" dress he made for fashion diva Fan Bingbing at the 63rd Cannes Film Festival in 2010.
Desperately eager to be "inspired by something exclusively Chinese" for his new work for the 65th festival in May 2012, Xu was "exhilarated" at the first sight of these artificial but lustrous flowers, and decided the theme of his next big dress - Chinese Edelweiss.
The snowy white gown, featuring more than 1,000 featherlike velvet petals handmade by Zhao over a number of weeks, received less attention than the dragon robe on the red carpet in France. But back at home, a new interest is growing among young people who used to think flowers of this kind were "too granny".
"Orders are flying in," says Zhao, sitting at a shabby desk scattered with dozens of scissors and clippers in different sizes at his studio, which is a part of the Nanjing Folk Art Museum.
For more China Face,
here