Art beat (July 13-Aug 22)
Colorful world of children
Guangdong Museum is displaying colorful paintings created by exceptional children from 40 countries and regions around the world and 91 videos telling stories about these children with disabilities or suffering serious illnesses. The exhibits are not outstanding art works but childish strokes on paper and egg shells, yet they show the inner world of exceptional children. The exhibition is aimed at enhancing the public's understanding to this group of people.
9 am-5 pm, daily until July 16 (closed on Monday). Hall 3, 3/F, Guangdong Museum, 2 Zhujiang Donglu, Zhujiang New Town, Tianhe district, Guangzhou. 020-3804-6886.
Hungarian choir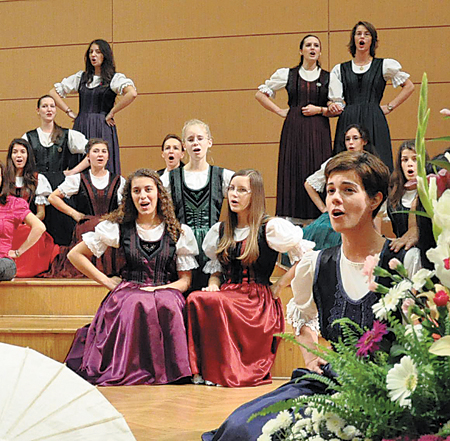 [Photo/China Daily]
The Cantemus Children's Choir from Hungary is going to fill the Xinghai Concert Hall in Guangzhou with merry children's folk rhymes from Hungary, Finland and Sweden on the night of July 19. The choir is made up of 40 girls aged from 12 to 17. Their pure voices have won them top prizes at international choir competitions hosted in Hungary, Britain, South Korea and Spain. Besides children's folk rhymes from Europe, the choir will also sing Schubert's Serenade, Brahms' Lullaby and Mozart's O du eselhafter Martin.
8 pm, July 19. Symphony Hall, Xinghai Concert Hall, 33 Qingbo Lu, Ersha Island, Yuexiu district, Guangzhou. 020-8735-3869.
Songs of hope and love
Xu Wei, an iconic figure of Chinese rock music, has made a comeback after a four-year break. Now on a concert tour to 10 cities in the country, Xu will come to Guangzhou on July 20 to sing classics and tracks from his latest album At the Moment. Xu is known for striking a chord in listeners with poetic lyrics closely related to everyday struggles of hope and freedom. Different from his classics such as Blue Lotus, the songs in Xu's new album such as Happiness replace impetuous beats with more gentle rhythms to express love rather than desperation.
8 pm, July 20. Guangzhou Gymnasium, 783 Baiyun Avenue South, Baiyun district, Guangzhou. 020-3663-9159.