Art beat (May 18-June 10)
Seeing with the eye
The World Art Museum is presenting Story of the Eye, a solo exhibition of work by Spanish artist Josep Puigmarti. Born in 1932, Puigmarti is a leading master in Spain. He was influenced by surrealism in his early years and created formative paintings. In the 1990s, his deformation and inlay paintings surpassed his former style. The exhibition features 105 oil paintings and 15 sculptures. Every work contains the element of the eye, which is quite realistic among other abstract images.
9 am-5 pm, except Monday, until June 1. World Art Museum, Jia 9 Fuxing Road, Haidian district, Beijing. 010-5980-2222.
Children's Day concert
A concert gathering more than 70 Chinese singers will be staged to celebrate International Children's Day. National anthems, including the Chinese anthem March of the Volunteers, United States anthem The Star-Spangled Banner, and La Marseillaise, the anthem of France, will be performed.
7:30 pm, June 2. Beijing Concert Hall, No 1 Beixinhua Street, Xicheng district, Beijing. 010-5166-4511.
Different perspective
Fifty artworks, ranging from oil paintings to handicrafts made by children with disabilities, will be displayed in an exhibition titled Same Art, Different Angle in Beijing. Children from Anhua Special Education School in Chaoyang district, which was founded in 1987, show a different perspective that many people in the so-called "normal" education system lack.
10 am-6:30 pm, May 25 and 26. Ullens Center for Contemporary Art, 798 Art Zone, 4 Jiuxianqiao Lu, Chaoyang district, Beijing. 010-6438-6675.
Broadway hits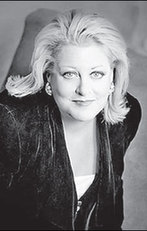 China Philharmonic Orchestra will celebrate its 13th anniversary with a concert on Saturday, featuring the well-known soprano Deborah Voigt (pictured). Voigt has enjoyed a positive reputation from critics and the world's opera audiences for her performances in operas by Wagner, Verdi, Strauss and others. On Saturday, she will collaborate with CPO to sing classics of Broadway, including songs from Sound of Music, My Fair Lady, and Porgy and Bess. Since its beginnings on May 25, 2000, CPO's music director Yu Long has aimed to establish China's best orchestra and one of Asia's leading orchestras, a goal which has been achieved. The world's most influential classical music magazine, Gramophone, listed CPO among the "top 10 most inspiring orchestras" in 2009.
7:30 pm, May 25. Forbidden City Concert Hall, inside Zhongshan Park, Beijing. 400-600-4100, 010-6551-3348.
Painterly return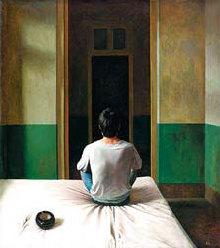 Today Art Museum is presenting The Return of Spring - a solo exhibition of works by Yuan Qingyi. As a leading figure of the new wave of Chinese contemporary art between 1985 and 1989, Yuan achieved fame early for his representative works such as Ashtray and The Return of Spring. He took a sudden absence from the Chinese art world in 1988 to travel to Japan and then France. The exhibition - as the title implies - signals the return of the artist. It features more than 30 oil paintings by Yuan, including two of his best-known works made in the 1980s, as well as his latest works created since 2009. Figures in his paintings are observed from behind, an unusual angle that only portrays their backs. Yuan believes seeing only the back leaves the audience more space for imagination, making them want to explore more.
10 am-6 pm, except Tuesday, until May 29. Hall 1, Today Art Museum, Building 4, 32 Baiziwan Road, Chaoyang district, Beijing. 010-5876-0600.
Directorial debut
Hong Kong actress Charlie Young has moved away from her usual romantic genre in her directorial debut, to create a court drama about a sexual assault case involving a disabled girl. Her bold film, Christmas Rose, is a solid story infused with suspense and is socially relevant - Hong Kong reported a sexual attack every six hours in 2011. Hong Kong veteran Aaron Kwok leads the cast playing a prosecutor, Chang Chen plays the suspect, a famous doctor accused of assaulting the girl during an operation. The film will premiere on May 24.
Young talent performs solo
British child singer, Connie Talbot, 13, will give her debut performance in Beijing. She rose to fame in 2007 when she reached the final of the first series of Britain's Got Talent. She is signed with Rainbow Recording Company and released her debut album Over the Rainbow in the UK in 2007. She has been invited to perform in China's national galas since 2010. At her first solo concert, she will perform songs from her past four albums.
7:30 pm, May 30. Poly Theater, Poly Plaza, Dongcheng district, Beijing. 010-6506-5345.