Hotel listings
Beijing
Yangzhou cuisine week
Huaiyang cuisine is one of the four major cuisines in China. It is known for its unique cooking methods, variety of dishes and delicate taste. From May 10 to 28, the Oriental at Traders Hotel Beijing invites chefs from Yangzhou's Lion Pavilion to present the best Huaiyang dishes to diners in the capital. Master chef Wu Songde will prepare classic dishes such as boiled shredded bean-curd skin with shrimp and ham, Wensi bean curd and the popular dish of double-boiled stuffed pork meat ball. 010-6505-2277 Ext 34
Wedding showcase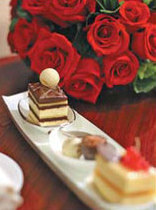 Beijing Kuntai Hotel is holding a wedding showcase on May 12. The one-stop event will feature everything a bride-to-be needs when planning her wedding. The showcase will be held in the hotel's Grand Kuntai Banquet Hall & Hanging Garden, where a luxury stretch Cadillac limousine is on display. Guests may also have a sit-down with expert wedding planners to help them plan their big day. Additional discounts for wedding reservations will be available. 010-8410-6200
Turkish delights
Scene a Caf at China World Hotel will present a dinner buffet featuring fragrant, exotic and spice-infused Turkish cuisine from May 6 to 9. In celebration of the much anticipated opening of Shangri-la Bosphorus, Istanbul, Scene a Cafe offers guests a diverse selection of authentic Turkish dishes prepared by chef de cuisine Keneeth Chee, with highlights such as izgara kofte (grilled meatballs) and mantarli karides guvec (shrimp gratin with mushrooms), accompanied by mint tea. 010-6505-2266 Ext 35
Inner Mongolia
Grassland experience
Shangri-La Hotel, Hohhot located in the Inner Mongolia autonomous region invites guests to indulge in a unique retreat with a specially created Pristine Grassland Experience Package. You can expect yurts, clear blue sky, rolling green pastures and herds moving like white clouds across remote grasslands. Hohhot, "Green City" of Mongolia, is the capital of the Inner Mongolia autonomous region. It has a long history, a colorful culture and many historic sites. Packages range from 11,888-20,888 yuan for two people to stay for three-days/two-nights, four-days/three-nights, or five-days/four-nights. The packages include accommodation in a Horizon Deluxe Room and Deluxe Mongolian Yurt. 0471-332-8888
Shanghai
Italian delights
The Westin Bund Center Shanghai is introducing traditional Italian delicacies at Prego every Thursday from 6:30 pm to 9 pm The carefully selected menu includes Prego's signature woodfired pizzas, pasta cooked la minute, antipasti, cheeses, breads, ice cream and tiramisu served tableside with a touch of la dolce vita. A lucky draw is available.
021-6103-5048
Baroque buffet
The Okura Garden Hotel Shanghai is rolling out a tremendous buffet at its Rose Coffee Shop, which maintains the original baroque-inspired architecture of the former French Club building. The buffet, open from 6 pm to midnight, features an elaborate selection of foods spread over several stations, highlighted by made-to-order teppanyaki and sushi stations. It includes free-flow soft drinks and beer. 021-6415-1111
Mother's Day menu
Jumeirah Himalayas Hotel Shanghai is introducing a special Mother's Day brunch, including free flow juice and soft drinks on May 12. Different set menus are designed for different dining spaces in the hotel, such as the Arte Caf from 11:30 am to 3 pm and the Grill Room and the J-Mix between 11:30 am to 2:30 pm and 5:30 pm to 9:30 pm. Each mother will receive a carefully prepared gift set. 021-3858-0888
Purple potatoes
The Sheraton Shanghai Hongqiao Hotel is introducing a traditional seasonal treat - purple potatoes. The delicacy will be incorporated into an afternoon tea menu at the lobby court. Different style purple potatoes are used for pies, cheesecake, ice cream, sushi and smoothies.
021-6275-8888 Ext 4825
When lunch is all business
Twelve At Hengshan, a Luxury Collection hotel, is introducing a special business lunch menu served from 11:30 am to 2 pm featuring Cantonese and Shanghai delicacies, among them slow-cooked soups. 021-3338-3888