Art beat (July 13-Aug 22)
Space for air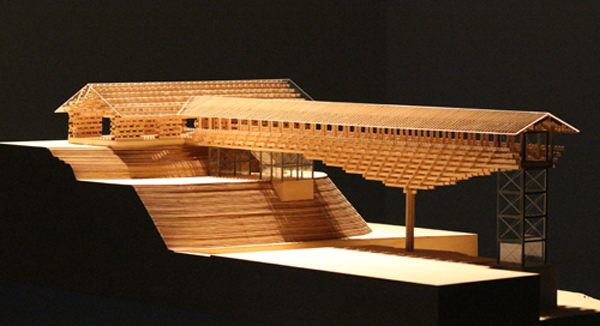 [Photo/China Daily]
Japanese designer and architect Kengo Kuma is having a solo exhibition at Himalayas Museum. Through his work, Kuma aims to recover the tradition of Japanese buildings and to reinterpret them for the 21st century. In the densely populated modern cities, buildings cram together, leaving no space for air. Kuma tried all means to make room for space between particles of human existence. He believed this will bring freedom to modern buildings. The exhibition will be presented in two parts at two venues.
10 am-6 pm, July 6-Aug 22. Himalayas Museum, 3F, A Zone, Himalayas Center, 869 Yinghua Road, Pudong New Area, Shanghai. 021-5033-9801.
10 am-6 pm, July 24-Sept 15. Shanghai Zendai Himalayas Art Museum - Zendai Contemporary Art Space, 1436 Jungong Road, Shanghai. 021-3612-0988.
King of the strings
American guitarist Steve Vai will stage a concert at Shanghai's Yunfeng Theater and Beijing's ThinkPad Space. The 53-year-old virtuoso has released eight solo albums and won three Grammy awards. Vai's playing is characterized by strong technical ability and a deep understanding of music theory. Some described his playing as lyrical, as if sung by the human voice. The China tour lineup will be: Philip Bynoe (bass), Dave Weiner (guitar), Jeremy Colson (drums) and Deborah Henson-Conant (vocals, keys and harp).
7:30 pm, July 24. Yunfeng Theater, 1700 Beijing Road W. Shanghai. 400-610-3721.
Percussion and such
Ju Percussions Group will perform a concert as part of the Music in the Summer Air Festival. JPG was founded by percussionist Tzong-Ching Ju in 1986 as the first percussion ensemble established in Taiwan. It consists of 13 percussionists and one composer in residence. The members possess transcendental virtuosity in playing Western percussion instruments as well as Chinese gong-drum music, and other forms of Asian traditional music. Audiences will be invited on stage to participate in the performance.
7:30 pm, July 17. Music Tent, Lujiazui Greens, 15, Lujiazui Road East, between Yincheng Road M and the Century Avenue, Pudong New Area, Shanghai. 4008-210-522.