Art beat (June 16-28)
Beijing
Rare images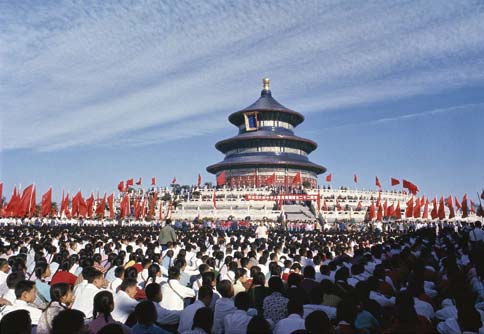 Photographer Weng Naiqiang has donated 143 of his photographs to the Central Academy of Fine Arts, most of which he took during the "cultural revolution" (1966-76). They are now on display at CAFA's art museum. The rarely seen pictures captured historic moments such as when the late Chairman Mao Zedong met Red Guards on the Tian'anmen Square. They also recorded Red Guards on their way to "da chuan lian (mass exchanges)" to see the country, and zhiqing (educated youths) working on Beidahuang in Northeast China. Born in Indonesia, Weng was sent back to China in 1951 by his patriotic father. He learned oil painting at CAFA and later became a photographer.
9:30 am-5:30 pm, Tuesday to Sunday, until June 19. CAFA Art Museum, 8 Huajiadi Nanjie Street, Chaoyang district, Beijing. 010-6477-1575.
Capturing ethnic life
Beijing Fine Art Academy's current exhibition at its museum displays more than 40 artworks that portray the vivid life of ethnic groups. On show are Chinese paintings, oil works, sculptures and prints, which 20 artists created after traveling to Guizhou province and the Tibet autonomous region in recent years.
9 am-5 pm, no admission after 4 pm, until June 18. Art Museum of Beijing Fine Art Academy, 12 Chaoyang Park Nan Road, Chaoyang district, Beijing. 010-6502-5171.
Light as a medium
Peruvian interdisciplinary artist Grimanesa Amoros displays a large-scale light-based work, called The Mirror Installation, at her solo exhibition at the Central Academy of Fine Arts' museum. She uses numerous pipes that contain white LED lights to connect several metal domes, which together form an intricate network. Amoros says the interwoven tubes look like the many overpasses in Beijing, and she was also inspired by the exhibition venue to complete the whole work.
9:30 am-5:30 pm, Tuesday to Sunday, until June 22. CAFA Art Museum, 8 Huajiadi Nanjie Street, Chaoyang district, Beijing. 010-6477-1575.  
Celebrating in song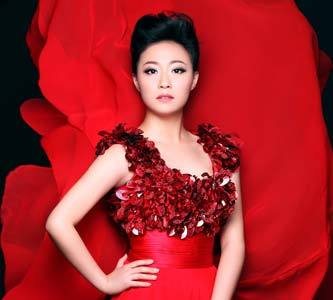 Ma Xiaohan will hold a solo concert to celebrate her graduation from the China Conservatory of Music in July. Ma started singing when she was a third-grader at primary school. After being admitted to the conservatory, she studied with professor Guo Xiangyi, who says Ma has exceptional perception that will help her master highly demanding vocal works in the future.
7:30 pm, June 14. Guoyintang Concert Hall of China Conservatory, 1 Anxiang Road, Chaoyang district, Beijing.
The art of prints
The Union Art Space is presenting 2013 China Guanlan International Print Biennale. The exhibition was first presented in Shenzhen Guanlan Original Printmaking Base, Guangdong province, and moved to Beijing's 798 Art Zone on June 8. Featuring engraving works from 37 Chinese artists of different generations, the exhibition demonstrates various techniques of engraving, trying to explore the art form's transformation and future in the contemporary context. Seminars will be held during the exhibition as well.
10 am-6 pm, except Monday, until June 30. Union Art Space, 798 Art Zone, 2 Jiuxianqiao Road, Chaoyang district, Beijing. 010-5978-9901.
Strings and songs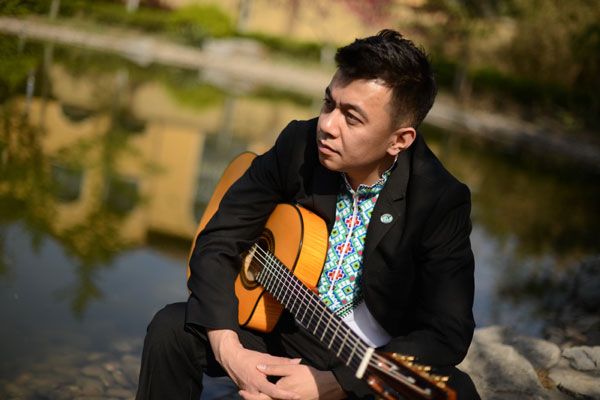 China's popular guitarist and singer Kerman (pictured above) will hold a concert in Beijing titled Legend of Loulan. A Uygur musician from Xinjiang, Kerman has released a number of CDs and performed at music festivals both at home and abroad. He also composed music for a number of films, including Hong Kong director Tsui Hark's Missing the Movie. Kerman has blended local musical idioms with flamenco techniques. Most of the songs on the program of his concert will be his own compositions. Violinist Zhang Shaobo and singer Xu Qianya will join the concert as special guests.
7 pm, June 15. Meilanfang Theater, 32 Ping'anli West Street, Beijing.