Art beat (June 21-29)
Xi Shi sings opera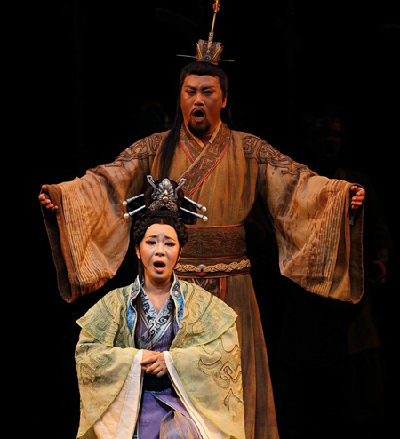 [Photo/China Daily]
National Center for the Performing Arts re-stages its original opera Xi Shi. Telling the ancient Chinese story in the form of Western opera, Xi Shi tells the love story of the beauty Xi Shi, one of the Four Beauties of ancient China, during the war between the kingdoms of Yue and Wu in the Spring and Autumn Period (770-476 BC). Since its 2009 premiere, the opera has won critical acclaim and attracted many veteran Chinese artists to join in, including director Cao Qijing, playwright Zou Jingzhi and composer Lei Lei. Famous sopranos Zhang Liping and Yao Hong play Xi Shi in the sixth round of the opera.
7:30 pm, June 20-23. National Center for the Performing Arts, No 2 West Chang'an Avenue, Xicheng district, Beijing. 010-6655-0000.
Qiu Hanqiao reviews a 40-year career
Painting master Qiu Hanqiao is holding an exhibition to review his 40-year career. About 100 representative pieces tell of his values and the relationship between nature and man through landscape, river and mountain paintings. On display are nine of Qiu's large scale works. Qiu's works are known for their quietness and big backgrounds, for which he became famous in the 1980s. Besides art, Qiu never stops exploring traditional culture and philosophy, the traces of which can be found in his works.
9:30 am-4:30 pm, until June 24. Poly Art Museum, No 14 Dongzhimen south street, Dongcheng district, Beijing. 010-6230-3127.