Film guru points out way of the West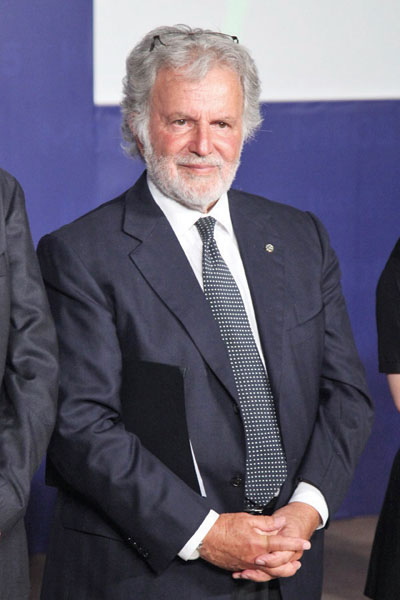 Sid Ganis
Sid Ganis voted at and attended the 85th Academy Awards, and really enjoyed the three-and-a-half hour show.
However, the former president of the Academy of Motion Pictures Arts and Sciences - the entity that presents the Oscar - didn't predict the final winners well. He only got half of them right.
But he was correct in predicting Ang Lee would win the award for best director.
"He is a great director," Ganis says.
"The world of making movies is kind of rough, but Lee has a calming sensibility inside to make beautiful movies. He has the ability as a director of the story, director of the actors and of the people who work with him."
Ganis has known Lee for years and has worked with him on some films. He says Lee is always changing styles.
"He always has completely different movies from the previous ones, and there is no area that he cannot focus on," Ganis says.
"He is a creative spirit."
But Lee is the exception to the rule when it comes to Chinese winning Oscars. Some complain the award represents Western values.
"The award can be US-centric sometimes, while it should be about the world," Ganis says.
Ganis was elected as the AMPAS president in 2005 and served the maximum of four year-long terms.
Ganis says it's difficult to define good movies.
"It is all about what happens inside when I watch them," he says.
He says he tries to view films as a moviegoer, rather than a motion picture professional.
Good movies should touch emotions and make people laugh, cry or feel moved, he believes.
This is what the Oscar commemorates, he says.
"Getting the award is a confirmation of their excellence," he says.
"That is the charm of it."
He insists the Oscars and Hollywood's film industry are independent of each other.
"The Oscar represents the artists," he says.
"It holds a rigid line from Hollywood's movies, either successful or controversial ones. The academy does not consider a film a good one just because it is a blockbuster. It requires more outstanding aspects, such as a good story, directing and acting, etcetera."
Ganis started his career as a movie company assistant, serving tea and coffee. He went on to shoulder various executive roles at different film companies, including Sony Pictures, Columbia Pictures and Paramount Pictures.
He also produced six movies and three television shows. His favorite is 2006's Akeelah and the Bee, which tells the story of a young girl's journey to compete in the Scripps National Spelling Bee, uniting her family and community along the way.
Ganis is the principal of Jiaflix Enterprises, a US company that works on Sino-US film industry cooperation. Jiaflix has been cooperating with M1905.com, the China Movie Channel's official website under the State Administration of Radio, Film and Television, to promote Chinese films in the US.
Last year, they unveiled a set top box that offers Chinese films to North American audiences.
Users with a television set and Internet connection can access about 6,000 Chinese and international films.
"We hope to promote Chinese films in the overseas market with the set top box," M1905's director and vice-resident Liang Longfei says.
Ganis says Chinese film has faced difficulties in expanding its influence in the West.
Hollywood movies emphasize innovation and imagination. Chinese films usually have profound historical contexts without attractive visual effects that aren't well received by Western audiences, he says.
"China is fast becoming one of the world's most important media and entertainment market and it is still growing," he says.
"We feel that it is important that the international film industry has a greater connection with and understanding of Chinese films and its lovers."
He suggests Chinese filmmakers should diversify if they hope for more awards.
"Be worldly, be of the world," he says.
"You are making films for the masses. It is important to produce something without political or geographic boundaries."
linjingcd@chinadaily.com.cn