Art: Luck of the draw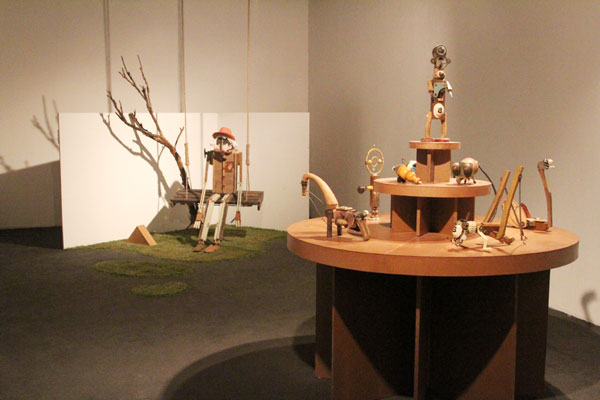 Xiaolonghua built a post-apocalypse world occupied by Wall-E-like figures and animals, which are made of junk he picked up. Provided to China Daily
Seven young artists are taking their chance at art. Their rich expressions are now on display in Shanghai but whether they will strike it big, is a gamble. Zhang Kun reports.
Selling your art work is like winning lottery. You should not count on it but keep trying anyway, says Gao Mingyan, a 30-year-old artist from Shanghai, describing the dynamics between artists and the market.
He and six other artists are featured at Museum of Contemporary Art (MoCA) Shanghai, in +Follow 2013 - Existence, Young Artists Group Exhibition.
Curator of the exhibition, Wang Weiwei, has given each artist a separate space, so that each individual can present his own world. Gong Mingguang, director of the museum, says the show aims to attract more attention on China's younger generation of artists.
All the seven artists are of similar age, from their late 20s to early 30s. "They seem to enjoy greater freedom in the creative expression," Wang says.
"They have broader choice of subjects and methods, face less pressure, and naturally come up with richer expression. In contrast to their previous generations, these young artists are more willing to explore the inner world, and find their own place as opposed to the outside world."
One of the artists, Xiaolonghua, a teacher in an art school in Shanghai, says he finds shelter and his own playground through art.
The artist chose his artistic name after the Shanghai-dialect pronunciation for crayfish: a cheap local delicacy, and a creature that survives on the bare minimum.
In his exhibition room on the second floor of the museum, Xiaolonghua built a post-apocalypse world resided by Wall-E-like figures and animals, such as a swan, snail, dog, and so on - all made of junk such as used corks, broken handles, clock parts and old plumbs.
Xiaolonghua admits that he has a hobby of collecting junk for his artistic creation. He goes to recycle centers, work sites and all kinds of junkyards to look for interesting items.
Then back home, he plays with them, puts pieces together to assemble new forms of human and animal figures. He doesn't add or process anything but only combines them so that audience can still recognize the original item.
Andy Mo, an artist from Jiangxi province, stretches his exhibition space from the ground floor show room to almost the top of the building.
A 3-meter-tall box with windows allow audience to see his drawings from different viewpoints. "The idea came from traditional Chinese garden design, 'one scene, one stop'," explains the artist.
He says visitors to a well-designed garden should be able to enjoy a different scene of beauty at every few steps. Such was also the guideline for traditional architecture.
"We create an artistic world of our own, but no way can we run far away from reality," says the artist.
Mo has successfully combined the traditional Chinese aesthetics with modern expression, says Wang, the curator.
Gao Mingyan says he was motivated to be a professional artist when a collector bought his artwork.
His art is oriented in the daily life and dedicated to the discovery of fresh elements and interesting perspectives.
"Recognition from the market is like winning lottery," he stresses again. "It's a rare opportunity, and not life's primary goal. But keep trying, and good luck might come."
Contact the writer at zhangkun@chinadaily.com.cn.
IF YOU GO:
10 am-6 pm, until March 23
Museum of Contemporary Art, Shanghai, in People's Park, 231 Nanjing West Road, Shanghai
021-6327-9900