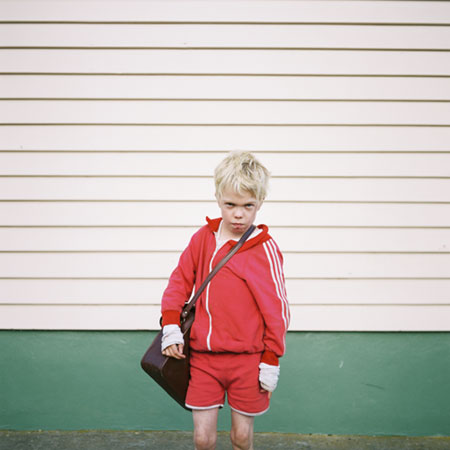 A scene from The Six Dollar Fifty Man. Provided to China Daily
The tale might start within lush bush land or a sweeping beachscape, but the stories in New Zealand on Film: A Festival of New Zealand stretch well beyond the purely picturesque.
Eight feature films and two shorts made between 1990 and 2012, selected from some of New Zealand's most acclaimed directors, cinematographers and producers, will be screened over a 10-day period in Beijing at Ullens Center for Contemporary Art.
Some are being shown in China for the first time.
An Angel at My Table, which is adapted from the three autobiographies of New Zealand's most distinguished author, Janet Frame, will open the festival.
The film tells the story of Frame's childhood, personal struggles and genesis as a writer.
The 1990 film was also the first from New Zealand screened at the Venice Film Festival of that year, where it was awarded the Grand Special Jury Prize.
The Six Dollar Fifty Man, a winner of Jury Prize in International Short Filmmaking of Sundance Film Festival in 2010, tells the story of an 8-year-old boy who is forced to break out of his make-believe superhero world to deal with playground bullies.
The film was inspired by the director Mark Albiston's oldest son, Jude, who believes he is invincible. The 2002 film Whale Rider, directed by Niki Caro and based on the novel of the same name by award-winning New Zealand writer Witi Ihimaera, will close the festival.
Revolving around a 12-year-old Maori girl who wants to become the chief of the tribe, the film won critical acclaim upon its release in 2002 at the Toronto International Film Festival. Keisha Castle-Hughes, who starred as the Maori girl, was nominated for an Academy Award for Best Actress.
Filmmakers including Vincent Ward, Catherine Fitzgerald and Florian Habicht will come to Beijing to discuss their works.
chennan@chinadaily.com.cn
IF YOU GO:
All films are in their original language with Chinese and English subtitles.
March 1-13
UCCA Art Cinema. 798 Art District, 4 Jiuxianqiao Lu, Chaoyang district, Beijing
010-5780-2022