Booming film industry in past five years: Fast development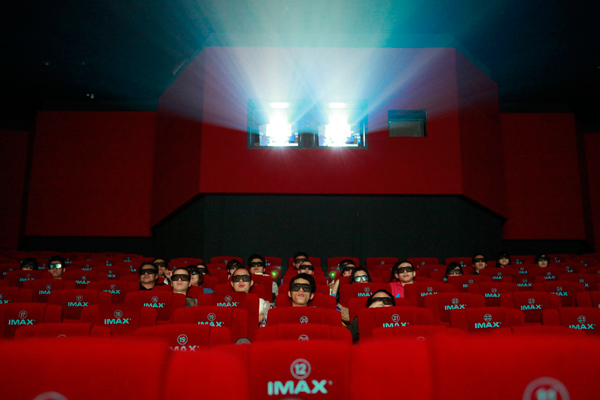 Patrons watch a 3D IMAX movie at a theater of Wanda cinema run by Dalian Wanda Group Co. in Beijing, China, Monday, May 21, 2012. The Chinese conglomerate, Dalian Wanda Group Co. announced Monday it will buy major US cinema chain, AMC Entertainment Holdings, for $2.6 billion to create the world's biggest movie theater operator. [Photo/IC]
Soaring box office and screens
According to official statistics from China's State Administration of Press Publication, Radio, Film and Television, China gained a total box office of 17.07 billion yuan in 2012, a 30 percent increase over the same period the previous year.
In that figure, 8.27 billion yuan in box office receipts was from domestic films, accounting for 48.46 percent of the total.
Twenty-one Chinese films boasted box office revenues of over 100 million yuan. Residents of Guangdong province, Beijing and Jiangsu province are among the top three for the burgeoning purchasing power of movie tickets.
In 2010, following the United States and India, China had the third largest film industry by the number of feature films produced annually.
In 2012, the country had become the second-largest market in the world by box office receipts and is expected to become the largest theatrical market in 2019, according to the movie news portal mtime.com.
Cinema was introduced in China in 1896. By the end of 2012, over 10,000 (13,118) screens have been utilized in Chinese cinemas, a 39 percent increase year-on-year. In 2016, the number reached 41,179, accounting for around one fourth of the total in the world.
Among all the screens in the Chinese mainland, 85 percent of them are 3-D screens, providing better viewing experiences for most Chinese movie-goers.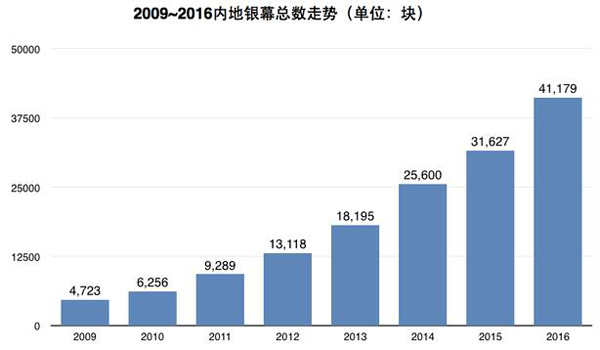 Screens shows a steady increase in quantity from 2009 to 2016 [Photo/Mtime]