Tsui Hark's new film to be screened in December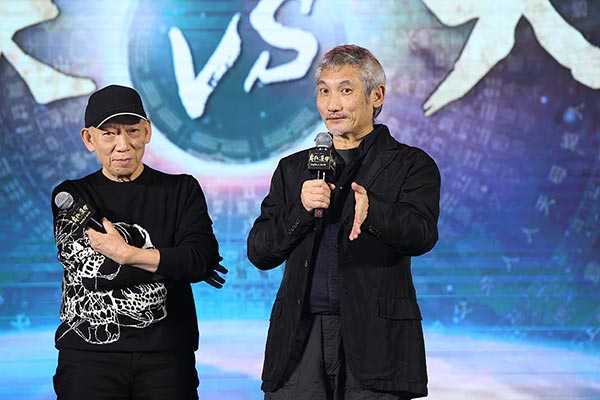 Hong Kong filmmaker Yuen Woo-ping (left) alongside Tsui Hark promote the upcoming fantasy wuxia movie The Thousand Faces of Dunjia.
Tsui Hark, a pioneer who has reformed Hong Kong martial arts movies, will add sci-fi elements in the traditional genre in the upcoming film The Thousands Faces of Dunjia.
The movie, which will open across China on Dec 15, is produced and written by Hark, and directed by Yuen Woo-ping, a famous Hong Kong filmmaker and stunts choreographer.
Set in a time of chaos, the tale follows a group of swordsmen's adventures to secretly protect humankind by hunting some mysterious creatures from the outer space.
During the Beijing promotional event on Oct 12, Tsui painted a crablike creature on a scroll, which provides a glimpse of the appearance of the alien invaders.
Yuen, known for his dazzling stunt designs in Hollywood franchises like Matrix and Kill Bill, reveals the new movie marks his eighth teaming with Tsui.
"Chinese filmmakers scarcely produce stories on aliens. I hope the movie can show the West the Chinese depiction on the unknown remote and the alien civilization," says Tsui.
Pop idol Aarif Lee, actresses Ni Ni and Zhou Dongyu, and actor Dong Chengpeng play the swordsmen in the movie.
The Thousand Faces of Dunjia is jointly produced by Le Vision Pictures, Acme Image, Beijing Jinhui Yinghua and Star Century Picture.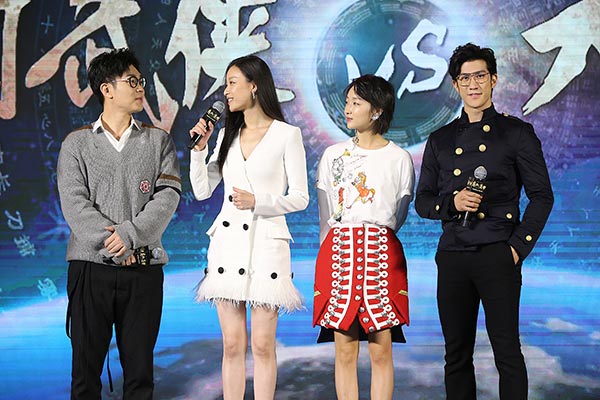 Cast stars from left include Dong Chengpeng, Ni Ni, Zhou Dongyu and Aarif Lee. [Photo provided to China Daily]