Documentary on Beijing Film Studio being made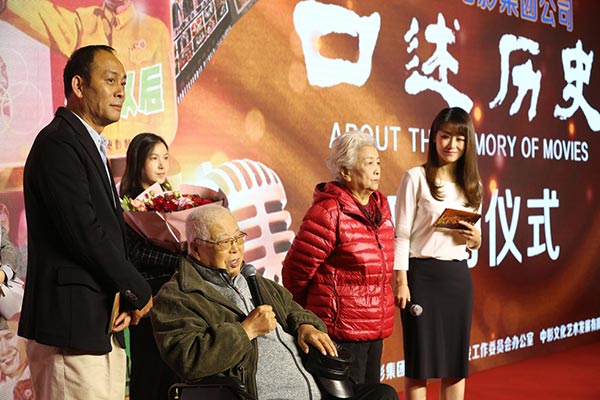 Celerated film artists Yu Yang (second from left) alongside Xie Fang (second from right) celebrate the filming of the documentary About the Memory of Movies. [Photo provided to China Daily]
Filming for a documentary on the history of Beijing Film Studio, About the Memory of Movies, began recently in the Chinese capital.
The studio, one of the earliest film companies established by Communist Party of China, was founded in April 1949.
And over the past six decades, the studio has produced around 500 feature movies and 400 TV series, including director Xie Tieli's February (1963) and The Rickshaw Boy (1982), adapted from Lao She's classic novel with the same title.
The documentary which is expected to feature interviews with more than 50 film artists, is being directed by Li Xin, a veteran filmmaker known for New Star (1986).
Song Zhenshan, the head of the studio, says filming for the documentary is expected to take one year.
"We are using the best equipment to make the documentary," says Song, adding the crew is using 4k high-resolution cameras and advanced recording techniques to make the film.
Yu Yang, an 87-year-old veteran, says: "I spent around two-thirds of my life in the studio. I feel glad to see a documentary being made to celebrate the past."