Instrument makers dance to a traditional tune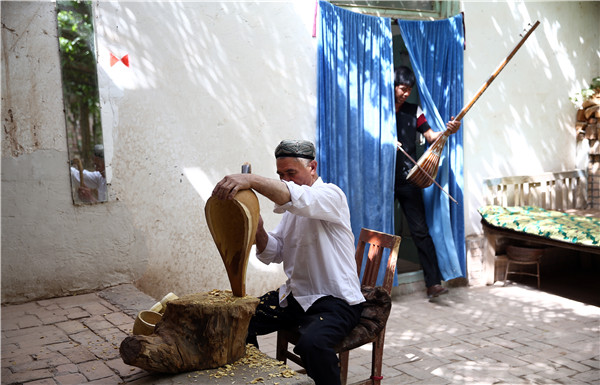 Rehman Abdula carves a dutar in Tuowankewuk sake village, Xinjiang Uygur autonomous region, as his son Mamutjon carries a finished instrument. [Photo by Zou Hong/China Daily]
Craftsmen in villages across West China are eager to maintain age-old skills and keep their culture alive, as Cui Jia and Mao Weihua report from Shufu county, Xinjiang Uygur autonomous region. 
Rehman Abdula is a quiet man, so when he speaks people know his words are important.
"It sounds good," he said, after listening to Memet Ali play a satar, a traditional Uygur instrument that resembles an Indian sitar. When Memet visited, Rehman was in the process of making the instrument at his house in Tuowankewukusake village, Shufu county, Xinjiang Uygur autonomous region.
Memet, 30, is a Uygur musician who plays in a local band that specializes in muqam, a popular and famous genre in the music of the mainly Muslim ethnic group. A few weeks before his visit, he had commissioned Rehman to make him a new satar.
The 65-year-old craftsman had asked Memet to visit to see if he was happy with the half-finished satar before he started to paint and decorate the instrument. It usually takes about a month to make a satar from start to finish.
'Best of the best'
"He is the best of the best," Memet said, gently tapping the body of the 5,000 yuan ($740) instrument with a finger to check the sound. The hollow body was carved from a mulberry log by Rehman, using a small, homemade machete.
Like the other makers of traditional Uygur instruments in his village in southern Xinjiang's Kashgar prefecture, Rehman makes every piece by hand. He has no need for plans or drawings because all the measurements are in his head.