A drunkard's monologue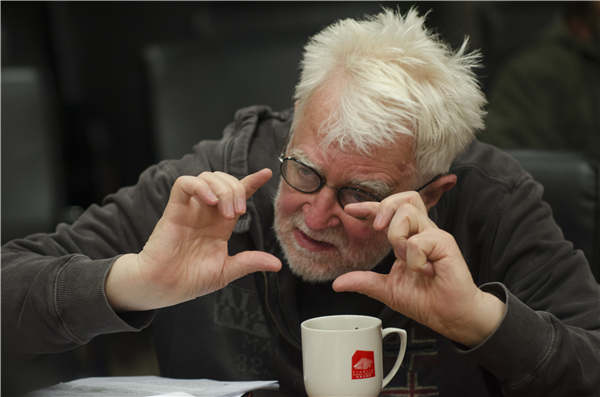 Polish director Krystian Lupa has adapted a novella by Chinese author Shi Tiesheng about a drunken man's struggles into a theater production. Photos provided to China Daily
The acclaimed Polish theater director Krystian Lupa will bring to life a work by the late Chinese writer Shi Tiesheng. Chen Nan reports.
Polish theater director Krystian Lupa received an email from Qian Cheng, the general manager of Tianjin Grand Theater, in early 2016, asking him to direct a play based on a novella written by the late Chinese writer Shi Tiesheng (1951-2010).
The novella titled Guanyu Yibu Yi Dianying Zuowei Wutai Beijing De Xiju Zhi Shexiang, which means "a stage idea with film as backdrop", was Shi's only script. It is about a drunken man talking to a mouse about his childhood, parents, ex-wife and his life's struggles.
Lupa did not know of the Chinese writer and had not read any of his works. However, he was intrigued by the story.
After Lupa made several trips to China from April to meet with actors and stage a rehearsal, the play, titled Mo Fei, will be staged at the Tianjin Grand Theater on June 24 and 25. It is part of the ongoing Lin Zhaohua Theater Arts Festival, an annual event initiated by Chinese theater director Lin Zhaohua in 2010.
The play, which is about four hours long, will have Chinese actor Wang Xuebing play the title character, Mo Fei.
"This novel is a monologue for Shi, though Shi's wife told me that he was not an alcoholic," says the 73-year-old director.
"I like the drunken man's language. He is marginalized by society and lonely. But he is frank and brave to confront himself."
To better understand Shi, Lupa read the writer's works, including one of his famous essays, I and the Temple of Earth, which was published in 1991 and was about the writer visiting the Temple of Earth in a wheelchair.
The Polish director also visited the Temple of Earth, a park in downtown Beijing, several times, which, as Lupa says, is "an important place for Shi".
He rode bicycles there, walked around in the park and watched the trees and flowers.